A free-blooming species even when small.


Description: Flattened-padded succulent, forming large, emispherical, bushy clumps up to 60-90 (or more tall) cm tall and 100-300 cm wide. The lower branches decumbent and sending up erect branches.
Stem: Segments obovate or partly rounded at apex, faded and glaucous, dull grey-green more or less glaucous. They measure 10-20 cm. in length.
Leaves: Acicular, awl-shapedup to 7 mm long, ephemeral
Areoles : Large, widely separated, round. Often spineless.
Glochids: Numerous, 3-12 mm long, acicular, slender, spreading, forming a dense cluster, golden yellow to dark red, thin, long, from all part of the areoles, persisting for several years.
Spines: 1-3 , often absent, reflexed, of a yellowish/toasted colour with a brownish base, up to 3(-5,5) cm in length. Often folded and seemingly decidous.
Flower: Golden yellow, diameter 8-10 cm. Several sources report the flowers as being 'yellow'. But the plant in cultivation usually has bright red-orange flowers, and sometimes the centre is greenish. Petals broad rounded or retuse, filaments yellowhis, Stigma dull yellowish with 8-10 green lobes.
Blooming season: Early summer.
Fruit: Pear-shaped, covered with fine spines and glochids, purple.



Leaves are fusiform and ephemeral.


Yellow/orange glochis. Glaucous epidermis.


Cultivation: It is a low maintenance plant that tolerate considerable neglect and will naturalize, it is drought-tolerant; and suitable for xeriscaping. Easy to cultivate outdoor in dry, sandy or gravely, well-drained soils. May be grown in clay soils as long as drainage is good and soils do not remain wet, it is very adaptable both in acid, neutral and basic (alkaline) soils, but prefers a pH in the range 6 to 7.5. No serious insect or disease problems.
Watering Needs: Outdoors: little or no water once established, in the green house irrigate regularly from March to october, keep fairly dry in winter, tolerate dry condition but suffer if exposed to prolonged and severe drought. A position at the base of a south-facing wall or somewhere that can be protected from winter rain is best for this plant, but is however resistant to moisture and rain.
Sun Exposure: Full sun (only), in semi shaded position wont produce many flowers.
Frost hardiness: They are reasonably cold hardy , tolerating temperatures down to -5° to -12° C (USDA: 8-10) depending on clone, they are also quite tolerant of winter wet. (In good drained soils)



Advertising




Family: Cactaceae (Cactus Family)

Scientific Name:

Opuntia aciculata

Griffiths, 1916



Distribution: South-western USA, north-western Mexico

Habitat & Ecology: It grows in dry hills mainly on stony outcrops, often in small colonies usually to the exclusion of other plants.

Listed in CITES Appendix II


Type: Synonyms:
Opuntia lindheimeri var. aciculata, Engelm. (Griffiths) Bravo, 1974.
Opuntia engelmannii var. aciculata Salm-Dyck (Griffiths) Weniger, 1970
Opuntia engelmannii ssp. aciculata (Griffiths) U.Guzmán, comb. et stat. nov.
Opuntia tardospina Griffiths
Etymology: The genus name"Opuntia" refers to a Greek name used by Pliny for a diverse plant which grew in the region of the town of Opus in Greece.
The species name " Aciculata" derives from the Latin word "acicula" which means "a small pin for a headdress", and the adjectival suffix for nouns "atus" : possessive of or likeness to something (with, shaped, made) for verb participles: a completed action, -ed
( The specific name implies: "covered with small pins").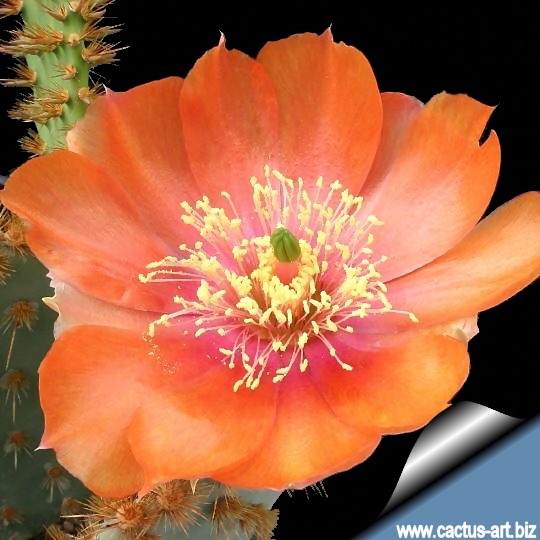 Tepals: orange-yellow with a violet throat.
Stamens clear yellow, stigmas green with a fat pink stylus.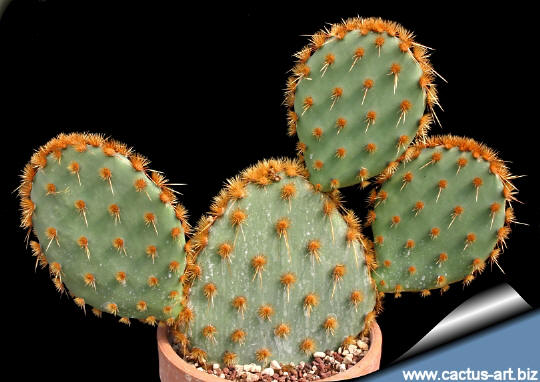 Propagation: Propagated by cuttings of leaf pads at any time in the growing season. (Allow cut surface to callus over before planting).
Traditional uses: The fruit are edible and the tender joints can be coked as a vegetable. In medicine the plant are used to treat dyspepsia, mumps, swelling and in veterinary it is used to treat bruises. The joints are also a good food for cattle (after burning of spines)