Toumeya papyracantha SB330 Sandoval County, New Mexico,
This population has very long flat papery spines. The centrals are brown with the new growth of a bright red colour, the radials are short and pure white.


Habit: Solitary, or slowly branching.
Stem: Dark green, 2.5-20 cm tall and 1-2 cm in diameter. It has no ribs and tubercles are elongate.
Stem anatomy: The stele is particularly thin, usually 2 mm or less in diameter, without medullary vascular system. Large mucilage cells occur in the tubercles and in the cortex, but are not present in the pith. Tissues which have mucilage cells are conspicuously slimy when freshly cut.
Areoles : 0.1-0.15 cm in diameter at the summits of the tubercles, and generally 0.3 cm apart. Glands, which are homologous with spines, are frequently on the adaxial sides of areoles which do not produce flowers
Spines: Central spines usually 1-2 (occasionally 3-4), strongly flattened, flexible, grooved, twisted, papery in texture, 1.8-3.8 long. often obscuring the surface of the stem. Radial spines parallel to the stem surface, 6-8 per cluster, ashy-white, 3.0 mm long.
Flower: On the new growth of the current season near the apex of the stem. Whitish, bell-shaped, with a brownish central midstripe, 1.8-2.5 cm wide.
Fruit: Green, often changing to tan, spherical, 1.2-2.0 cm long, dry and dehiscent at maturity along a dorsal slit and around the circumscissile apex.
Seeds: Black, covered with minute bumps, irregularly oval in shape, slightly flattened, and 2.5 mm long.
Phenology: Blooming time: April/May
Roots: Fibrous 5-10 cm long

Notes: There are no recognized subspecies, varieties, or forms.

.

The flowers are whitish to pale yellowish appear on

the new growth of the current season near the apex.
.
.

Photo of conspecific taxa, varieties, forms and cultivars of Toumeya papyracantha:


Advertising




Family:
Cactaceae (Cactus Family)

Scientific Name:
Toumeya
papyracantha
Type: "In a valley between the lower hills near Santa Fe in loose sandy red soil. Type specimen: HT: MO. Fendler, 15 May 1847

Basionym: Mammillaria papyracantha Engelmann, Mem. Amer. Acad. II, 4:49, 1849.
Distribution: USA, Arizona (Southern portion of Navajo County, Apache County) New Mexico (southeast Rio Arriba County and McKinley County to Grant and Dona Ana counties) Texas (Hudspeth County) Colorado and Mexico. T. papyracantha is inconspicuous and probably irregular in occurrence; it may be more widespread than presently known.
Conservation status: Listed in CITES Appendix I
Quite abundant, at least in parts of range (6-20 occurrences globally reported), but now sharply reduced due to degradation of habitats, collection and development. It is imperilled and vulnerable to extinction, But its highly inconspicuous nature makes it a difficult species to locate and study.
Vernacular name (s): Grama-grass cactus, Paper-spined cactus, Paperspine fishhook cactus, Toumeya
Pediocactus papyracanthus (Engelm.) L.D. Benson,
Published in: Cact. and Succ. Jour. 34(2): 61. 1962.
Mammillaria papyracantha Engelm.
Published in: Mem. Amer. Acad. Arts, n.s. 4: 49. 1849.
Sclerocactus papyracanthus (Engelm.) N.P. Taylor
Toumeya papyracanthus Britton and Rose
Echinocactus papyracanthus Engelm,
Etymology: The genus name "Toumeya" commemorates Dean James W. Toumey (New Mexico) who was also honoured by Britton & Rose, whose work benefited from Toumey's fieldwork and collections of cactus specimens. The species name "papyracantha" derives from the greek word "papyrus (παπυρος)" that means " papyrus (Cyperus papyrus); paper " and from "acantha (ακανϑα)" that means "thorn, spine" (The specific name implies: "papery spines")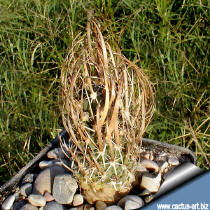 Habitat: Grows in open flats in pinyon-juniper woodlands, great Plains grassland, and Chihuahuan Desert grassland. At an elevation of 1500 - 2300 m. Restricted to fine, sandy clay loams and red sandy soils; rarely gypseous; often on highly erodable sites.
It is almost always found associated in or near tufts or fairy rings of blue grama grass (Bouteloua gracilis) where it is seldom seen thanks to its excellent camouflage because the papery spines resemble dried grass leaves. T. papyracantha demonstrate the importance of microclimate variation for cactus growth, in fact this plant depends upon the favourable microclimate provided by grama grass to survive.
Stems usually shrink during dry seasons, leaving only the papery spines visible above ground.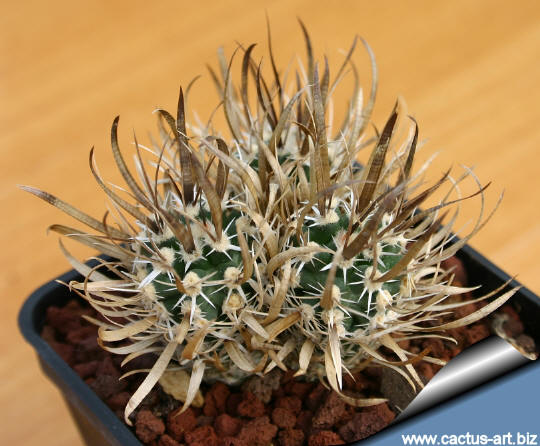 Toumeya papyracantha Locality: Snowflake, Arizona 1700 m.
The plant from Snowflake have shorter pale brown spines, bent upwards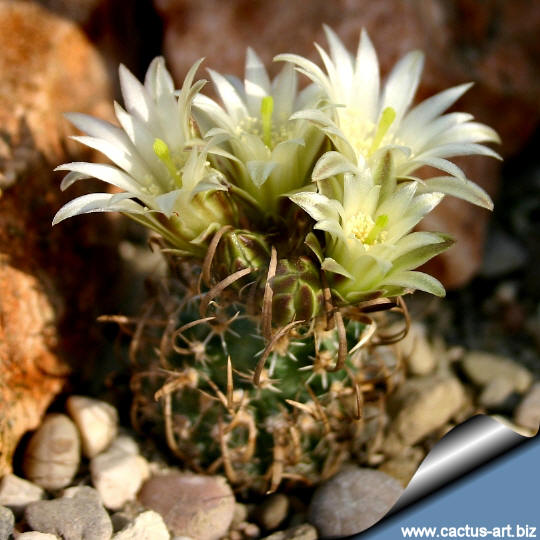 Cultivation: Needs moderate watering, because excess of water causes mature individuals to rot and die, especially after transplanting.
Sun Exposure: Full sun to partial shade.
Cultural Practices: Needs a very draining and mineral substratum.
Frost Tolerance: Very frost hardy, above approx -12° C.
Propagation: Seeds: Temperature for optimum germination: night minimum approx 17 day maximum, up to nearly 40 C, at any time of year with proper temperatures and daylength (ca.13-14 hours); it is possible to extend day-length with artificial lights. Anyway the seeds germinate slowly with extreme difficulty and a low rate of success. scarification and stratification help, alternately freeze and thaw both wet and dry, but don't keep wet, alternate wet and dry with changing temperatures. Germination can take several years, so keep pot and try again next year. Seedlings do not do well either, and some die each year, for this reason plants are commonly grafted on hardy stocks like Opuntia compressa. In this case they are easy to grow and no special skill is required.