T. schmiedickeanus ssp. bonatzii


Description: Small solitary or slowly clumping cactus.
Stem: Dark green-bluish, semi-globose, depressed, divided into tubercles, 1.5-2 cm in diameter, merging in a tuberous root 3-5 cm long, and from it longer fibrous roots develop.
Tubercles: Conical to rhomboid.
Areoles: Young areoles with white wool, old ones bare.
Central spines: 0-1 central spine, arising from the lower part of the areole, curved upwards into a semi-circle, 1.2-1.5 cm long, flattened, rough, slightly split transversely, horn coloured to brownish.
Radial spines: 1 or 2 (to 5) radials 3-5 mm long, decurved..
Flowers: funnel-shaped, 10mm long, 12-15 mm wide, light cream to slightly pinkish, with reddish throat, petals generally with darker mid-stripe and with lighter margins. . Filaments dark pink, anthers orangish yellow. Style 10 mm long, pink, stigma remaining closed, white.


Flowering season: They bloom very early in winter (January-February.)
Fruits: Brown magenta.
Seeds: Cap- to blunt pear-shaped, 0,8 - 1 mm, dark reddish brown to blackish, testa covered with minute tubercles, hilum micropylar region with a shiny smooth bulge. Testa with narrower, undulatory cuticular folding pattern.

This species is closely related to Turbinicarpus schmiedickeanus ssp klinkerianus


Photo of conspecific taxa, varieties, forms and cultivars of plants belonging to the Turbinicarpus schmiedicheanus aggregate: (This taxon has lots of synonyms, with several controversial varieties and subspecies):


Advertising




Family:
Cactaceae (Cactus Family)
Scientific Name: Turbinicarpus schmiedickeanus ssp. bonatzii (G. Frank) Panarotto
Conservation status: Listed in CITES Appendix I

Basionym: Turbinicarpus bonatzii G. Frank (1992)
Pubblished in: Succulenta Succulenta (Netherlands) 71(6): 279-281, 1992
Etymology: This plant was found in 1991 by H J Bonatz and named, at his request, in his honour.

Distribution: Mexico (San Luis Potosi: Cerritos) Altitude 1000-1100m.
Synonyms: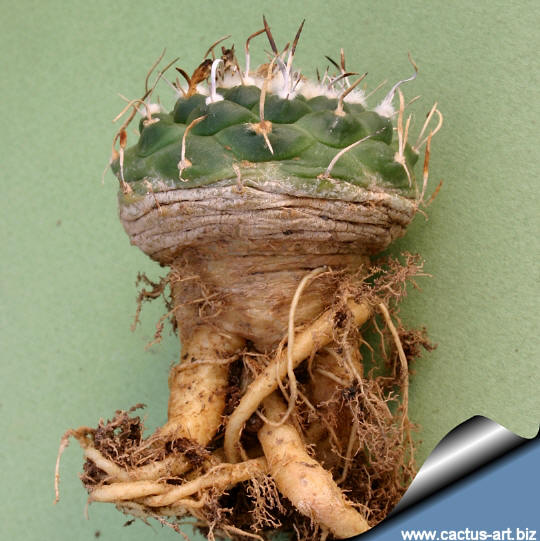 Cultivation: It's a fairly easy species to cultivate. It needs a very well drained soil, and requires strong sun to part sun to develop good spinal growth. Waterings should be rather infrequent to keep the plant compact and to avoid its becoming excessively elongated and unnatural in appearance. Keep dry in winter, or when night temperatures remain below 10° C. It is hardy to -4°C for a short period. Assure a good ventilation.