A mature specimen


Description: This species typically will grow solitary but may on occasion cluster, it is very similar to T. schmiedickeanus ssp. gracilis the closest variety from which differ in type and number of spines.
Stem: Solitary globular depressed, 30mm high 30-40mm wide dark greyish-green.
Tubercles: in 8 to 13 spirals, pyramidal, elongated only about 3-5 mm long compared to the 7 mm long tubercles of ssp. gracilis .
Root: Taproot.
Areoles: With long, white, wool in youth becoming bare later.
Centrals Spines: 1-3 semi-rigid but not noticeably flattened or papery curved slightly inward or twisted grey-black, 13-22 mm long.
Radials spines: 18-24 finely acicular, rigid white 2mm long on young areoles (areole in old specimens have only central spines).
Note: No other variety of schmiedickeanus has as many radial spines nor as slender central spines.
Flowers: Apical funnel shaped white-yellow occasionally with brown midstripe , up to 2 cm long,1.5 cm wide
Fruits: Brown.

Cultivation: This species is easy to cultivate but slow growing, needs care with watering to avoid abnormal growth and to keep plant compact. It is cold hardy to -4°C for a short period and do best in full sun to light shade exposures.


Advertising




Family: Cactaceae (Cactus Family)

Scientific Name: Turbinicarpus schmiedickeanus subsp. dickisoniae (Glass & R. C. Foster) N. P. Taylor

Conservation status: Listed in CITES appendix I

Note: This species has recently reduced to a rank below schmiedickeanus ssp. gracilis.

Locality: Near Aramberri in the state of Nuevo Leon (Mexico). Altitude 1200m.

Synonym:
Turbinicarpus dickisoniae Glass and Foster, Original publication: CSJ(US), Vol 54(2):74, 1982
Turbinicarpus gracilis ssp. dickisoniae
Neolloydia schmiedickeanus ssp dickisoniae
Pediocactus schmiedickeanus v dickisoniae
Turbinicarpus schmiedickeanus var. dickisoniae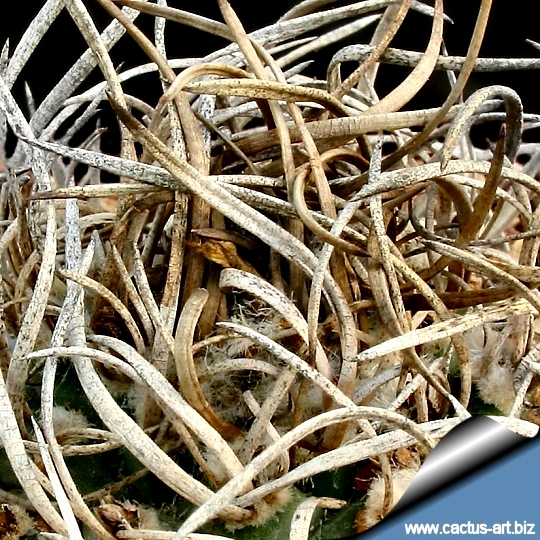 The spines in an adult specimen.
Photo of conspecific taxa, varieties, forms and cultivars of plants belonging to the Turbinicarpus schmiedicheanus aggregate: (This taxon has lots of synonyms, with several controversial varieties and subspecies):