E. poselgeri (SB852 Jim Hogg Co, Texas, USA) has bright pink flowers, and makes a spectacular sight and an interesting addition to any collection.


Morphology (Identifying Characteristics):
Habit: Shrubby, scarcely branched, initially erect, later sprawling or clambering.
Stem: Very tall and slender, dark coloured. up to 1.2 m, diameter 2 cm, ribs 6-10
Spines: tan-greyish white; 1 central up to 9 mm long, enlarged at its base, 4mm long; 8-15 straight radials, 4,5mm long, closely appressed (except at the stem tip)
Roots: tuberlike, Contrarily to E. kroenleinii, the underground storage organ similar to dahlia tubers is not capable of producing new shoots. Those sprout out only from the main cut stem. Each plant can have up to 8 tubers, 10-20 mm in diameter, with a length of 60-100 mm. The colour is light brown in youth, later brown.
Flower: Pink Rose/Mauve Magenta (Pink-Purple)
Fruit: Ovoidal 20 mm Long, 10-15 mm Ø, dark green to brownish, pulp white
Seeds: Black 1,5mm
Phenology: Blossoming time: Late Spring/Early Summer.

Notes: It apparently looks like some Peniocereus species. However the flowers, fruits, and seeds of E. poselgeri are characteristic for Echinocereus, somewhat comparable to those of E. reichenbachii.



Tall pencil-thin stem arising
from a tuberous root system


Echinocereus poselgeri GL391
Falcon Lake, Texas, USA
Photo and © copyright by Mladen Turcinovic (Croatia)


.


Advertising




Family
:
Cactaceae
(Cactus Family)
Scientific Name: Echinocereus poselgeri Lemaire
Published in: Cactées. 57. 1868 Table 2 fig. 2
Conservation status: Listed in CITES Appendix II
Distribution: West & South West USA (Texas) and Mexico (Coahuila, Nuevo Leon, Tamaulipas)
Habitat: Among thorn scrub in alluvial soils; 0-200 m;
Locus typicus: USA: Texas, near the Rio Grande, H. POSELGER
Type: Lectotypus (L. BENS0N 14 , 1982): USA: Texas, Rio Grande'aboy*Belleville, H. POSELGER coll. 1850 [MO]
Cereus tuberosas Poselger.
Allg.Gartenz. 21: 135, 1853 nom. illegit.
Echinocereus tuberosus (H. Poselger) T. Ruempler
in FÖRSTER 's Handb. Cacteenk‑,ed. 2: 783, 1886
Wilcoxia tuberosa (H. Poselger) K. Kreuzinger
Verzeichnis: 18, 1935
Cereus poselgeri (Ch. Lemaire) J. M. Coulter.
Contr.U.S. NAT.Herb. 3: 398, 1896
Wilcoxia poselgeri (Ch. Lemaire) N. L. Britton & J. N. Rose.
Contr.U.S. Nat. Herb. 12: 434, 1896
Vernacular name (s): Sacasil, Zocoxochitl Pencil cactus, Dahlia hedgehog cactus.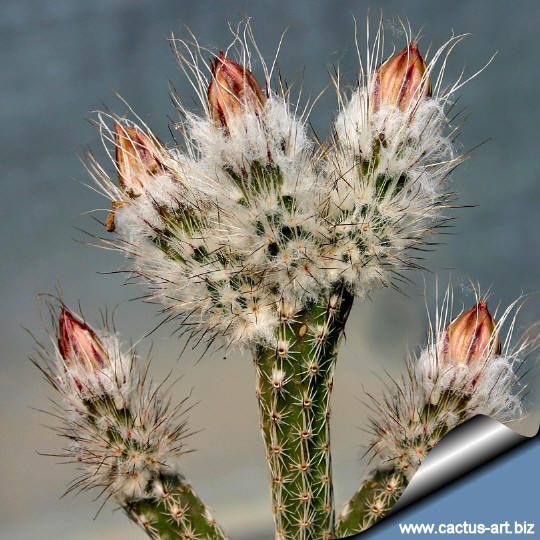 Buds just before opening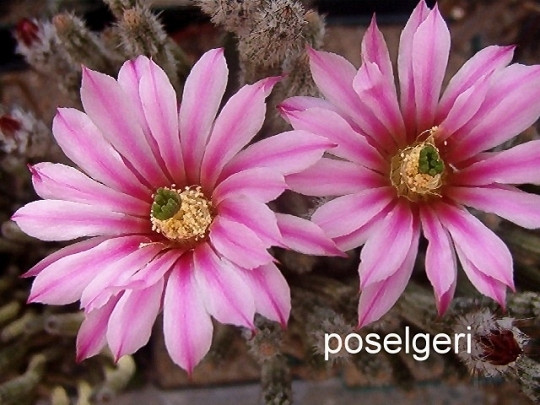 Some photos and information in this page courteously provided by Dieter & Irene Waldeis
Cultivation: Do not over water. They need to be kept in a cool, dry place during winter rest (at -5 +10°C). This is important for the flowers as well as for their health. Without this cool winter period they normally won't get any buds. It is quite frost hardy -7 (-10)° C.
Sun Exposure: Best in full or partial sun exposure. In mild climate they grow well when planted freely outside in well-drained soil.
Propagation: Seeds (usually), it also can be grown from cuttings, as it can branch with time.
Photo of conspecific taxa, varieties, forms and cultivars of plants belonging to the Echinocereus posselgeri complex (This Taxon has lots of synonyms ( like many other cacti) whit several controversial varieties and subspecies and comprises different forms):