Echinopsis hystrichoides
It is a very spiny member in the "Easter Lily Cactus" family. The spines are particularly strong and very ornamental.



This species shows a consider variability, especially in spines shape and flowers colour.

.

.

.

Photo of conspecific taxa, varieties, forms and cultivars of plants belonging to the Echinopsis mamillosa complex (This Taxon has lots of synonyms whit several controversial varieties and subspecies and comprises a multitude of different forms, but where each form is linked to others by populations of plants with intermediate characteristics):


Advertising




Family:
Cactaceae (Cactus Family)
Scientific Name: Echinopsis hystrichoides F. Ritter
Conservation status: Listed in CITES appendix 2.
Origin: Bolivia Cinti province, (Chuquisaca) at high elevation
Echinopsis mamillosa var. hystrichoides

(Ritt.) Rausch.
Lobivia hystrichoides
Etymology: Greek "Hystix"., purcuspine, hedghog; and Greek "oides" resembling. For the spiny plant body.

Description: Usually solitary globular cactus, up to 18 cm in diameter.
Stem: Flattened globose, green, 12-18 cm in diameter
Ribs: 16-21, sharply notched, to 1.8 cm high
Areoles: sunken, whitish, to 2 cm apart.
Spines: Light yellow to dark brown.
Central spines: 4-10, straight or curved, 2.5-6 cm long.
Radial spines: 12-20, needle-like, 1.5-4 cm long.
Flowers: Nocturnal, broad funnelform, white to pink, up to 19 cm long.
Fruits: Green, to 4 cm long and 3 cm in diameter.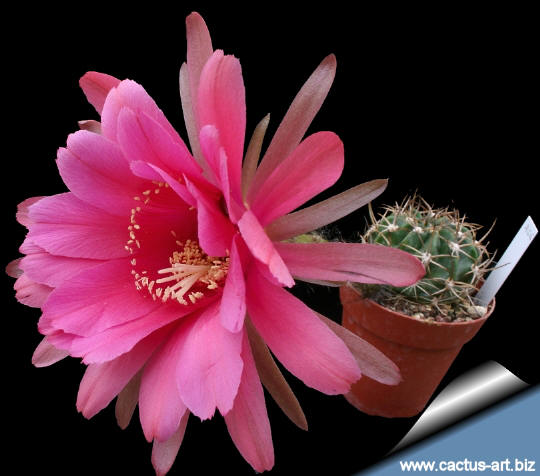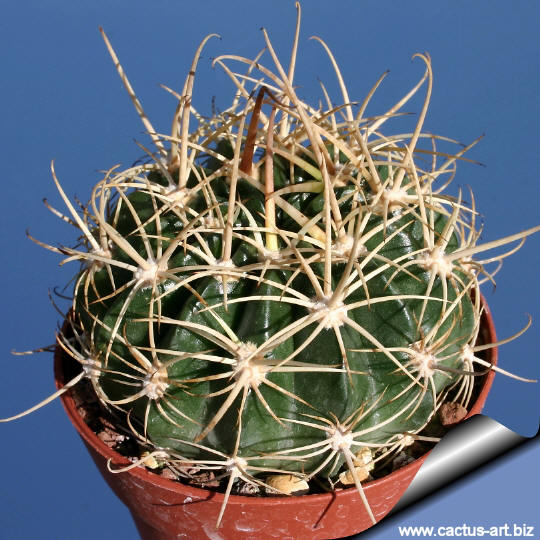 A specimen with pale cream coloured spines.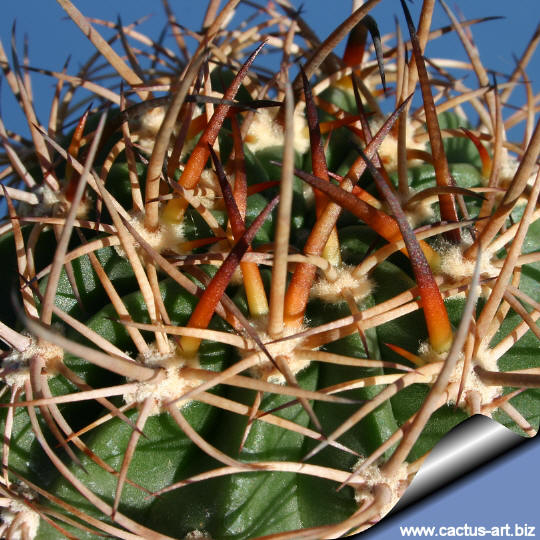 Cultivation: The Echinopsis hystrichoides is a summer grower species that offers no cultivation difficulties. Water regularly in summer (but do not overwater ) needs good drainage and very porous soil, keep rather dry in winter. Feed with a high potassium fertilizer in summer. It is quite frost resistant if kept dry (hardy to -10° C). Need a bright exposure, full sun or half shade in summer.
Propagation: Direct sow after last frost, offsets.