Echinopsis mammillosa form an attractive large-growing fresh green body with relatively short spines.
The flowers of are truly beautiful.


Description: Solitary spherical to columnar cactus, 10-25cm in diameter and 7-30 cm tall or more

,

depending on the variety. There are a number of varieties that differ with flower color, dimension and spination.
Stem: Large

and

globular

,

with many ribs divided into low rounded tubercles.
Flowers: Up to 20 cm long, 10 cm wide. Typically the species ha

s

white nocturnal flowers to attract moth pollinators

.

Large, but the flowers may be white with rose colored tips, purple or deep red. The flowers of this species are characterized by relatively short floral tube scales and unusual seeds.
Blooming season: This species will produce flowers in the summer when only 8 cm in diameter. The blossoms open at night and last about 24 hours.

The subspecies 'silvatica' sometimes reaches 30cm high

,

and the majority of spines are straight.
The subspecies 'mamillosa' only reaches about 7 cm inches high

,

and

has

slightly curved spines.
The 'kermesina' variety has deep red to purple flowers

,

and is used often in hybridization.

This species (and particularly the carmine flowered variety kermesina) is often used in hybridization, and is an important component of some modern Echinopsis hybrids, lending its large showy flower structure to these hybrids.


Cultivation: The Easter Lily Cactus is a summer grower

species that offers no cultivation difficulties.

Water regularly in summer (but do not overwater )

. It

needs good drainage and very porous soil

.

K

eep rather dry in winter.

Feed with a high potassium fertilizer in summer. It is quite frost resistant if kept dry (hardy to -10° C).

It n

eed

s

a bright exposure, full sun

or half shade in summer.

Propagation: Direct sow after last frost, or offsets if any.

Photo of conspecific taxa, varieties, forms and cultivars of plants belonging to the Echinopsis mamillosa complex (This Taxon has lots of synonyms whit several controversial varieties and subspecies and comprises a multitude of different forms, but where each form is linked to others by populations of plants with intermediate characteristics):


Advertising




Family:
Cactaceae (Cactus Family)
Scientific Name: Echinopsis mammillosa Gürke 1907
Origin: Tarija, Bolivia
Conservation status: Listed in CITES appendix 2.
Synonyms:
Echinopsis ritteri Boedeker 1932
Echinopsis mamillosa var. kermesina (Krainz) Krainz
Echinopsis mamillosa ssp. sylvatica (Ritter) Braun & Esteves
Pseudolobivia kermesina Krainz 1942
Echinopsis kermesina (Krainz) Krainz 1961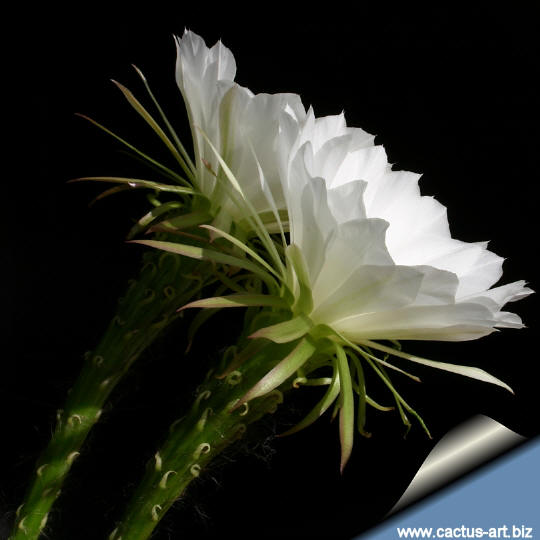 The feature that seems to distinguish E. mammillosa from other Echinopsis plants is the succulent, claw-like bracts on the flower tube that in some clones are curled like pig's tails.