Very long flowers, about 20 cm, brilliant white to light pink.


Description: The stems is globose to elongate up to 30 cm high with 8 to 12 -ribs.
Spines: Almost spineless or with very short cream spines.
Flowers: These cacti produce gorgeous, night-blooming, white funnel-shaped, fragrant flowers with long tubes 15-22 cm long. Old plant may have many flowers at a time. This species blooms from late spring to all summer long, the flowers open on the morning of the first day and remain opened all the night long but last only one day in full beauty, at the second day they start to wither.


.


This Echinopsis is almost spineless or with very short cream spines and produces gorgeous, night-blooming, white fragrant flowers up to 22 cm long.

.


Advertising




Family:
Cactaceae (Cactus Family)
Scientific Name: Echinopsis subdenudata Cárdenas 1956

Origin: Bolivia,Paraguay
Easter Lily Cactus
Night-blooming Hedge-hogs

Cultivation: The Easter Lily cactus is a summer grower species that offers no cultivation difficulties. Water regularly in summer (but do not overwater ) needs good drainage and very porous soil, keep rather dry in winter. Feed with a high potassium fertilizer in summer. It is quite frost resistant if kept dry (hardy to -7° C). Need a bright exposure, full sun or half shade in summer.

Propagation: Direct sow after last frost, offsets.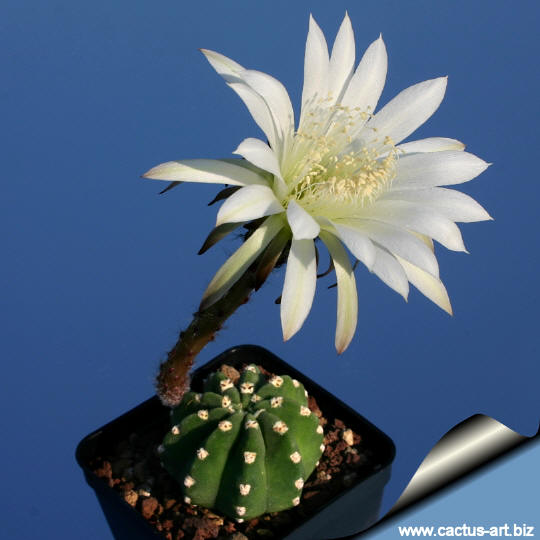 Photo of conspecific taxa, varieties, forms and cultivars of Echinopsis subdenudata.