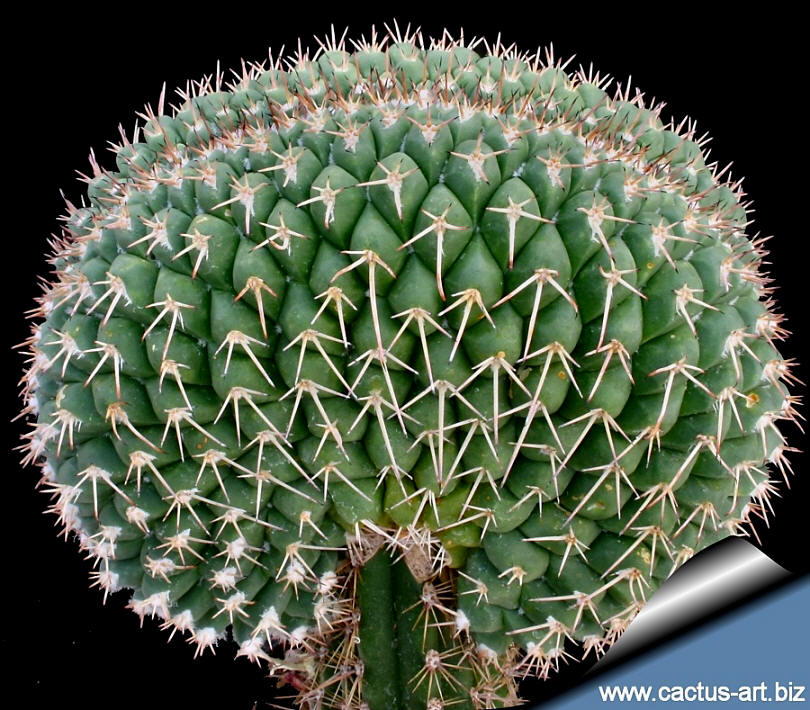 Mammillaria compressa cristata type B (Stout bluish form)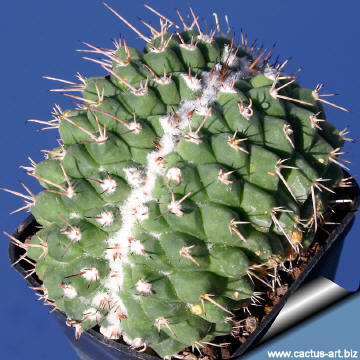 Description: The standard Mammillaria compressa is a heavily clustering plant that form up to 1 m large cushion. It is among the most famous cacti for its easily clustering and easily flowering habit.
The beautiful crested form develops huge brain-shaped hemispherical cushion.
However there are several different crested clones, some of them very distinctive. (cf. Mammillaria compressa cv. YOKAN) Older crested plant are very priced.
Stem: Green to bluish grey-green, With latex.
Tubercle: Prominent, close set, firm, bluntly angled, keeled.
Axil: With white wool and bristles.
Central spine: Absent.
Radial spine: 4 - 6, unequal, chalky white with brownish tips, 20 - 70 mm long, some very short
Flowers: Bell shaped, purplish pink to deep red, 1-1,5 cm in diameter.
Blooming season (Europe): Winter, early spring.
Fruit: Club shaped, red.


Cultivation: It is a rapid growing species . Water regularly in summer, but do not overwater (Rot prone) Use pot with good drainage and a very porous potting media, keep dry in winter. Feed with a high potassium fertilizer in summer. It is quite frost resistant if kept dry, hardy as low as -5° C (some reports give it hardy to -12°C) Outside full sun or afternoon shade, inside needs bright light, and some direct sun.
Propagation: By stem cuttings from adult plants in spring or summer or by grafting. Pieces of crest must be dried out for at least 3 weeks before planting in coarse river sand. This is quite an easy alternative and success is almost always guaranteed.




Advertising