Mammiallaria nana 'trichacantha' SB21 North of SLP, SLP, Mexico.
It is also one of the most prolific bloomers among the Mammillarias.


Description: M. trichacantha is a solitary or slowly clumping globular cactus that eventually forms tiny mounds.
Stem: 1.5 to 4 cm high, 2.5 to 5 cm wide, soft, globular depressed to shortly cylindrical. The tubercles are small, clavate 4-5 mm high, slightly glaucous, the axil is sparsely woolly, with bristles to 15 mm.
Radial spine: 15 - 18, about 7 mm long, acicular, thin, white, pubescent partially interlacing,.
Central spine: At first none, later developing 1 or 2, tawny brownish (sometime yellow/orangish), pubescent, the lower hooked, 7 - 9 mm long, the upper erect, to 4 mm.
Flower: Pale cream, pale yellow or white with pinkish brown midstripe, 10 - 20 mm long, 10 - 15 mm in diameter. Inner segments lanceolate, widely spreading, accuminate, stiyle green, stigma lobes white.
Blooming season: Flowers readily, and for a long period during the early summer.
Fruit: Red, elongated.
Seed: Brownish black.



The blooms are whitish yellow and up to 15 mm long (occasionally with pink midstrips).



This is a remarkable species on account of its having hairy brown to yellow/orangish spines that finally turn to gray.


Advertising




Family:
Cactaceae (Cactus Family)
Mammillaria trichacantha Shuman
In: Gesamatb, Kakteen Nachtr.133. 1903

Accepted Scientific name: Mammillaria nana ssp nana
First description by Backeberg, descr. Cact. Nov. 3: 8 (1963)
Origin: San Luis Potosi, Guanajuaro, Queretaro, (and Hidalgo?) Mexico. Altitude 1.600 - 2.300 m.
Conservation status: Listed in CITES appendix 2.
Other Synonyms:
Neomammillaria trichacantha (Schum.) Britton et Rose
Mammillaria monancistracantha
Comments: Some authors considered it as synonym of M. crinita.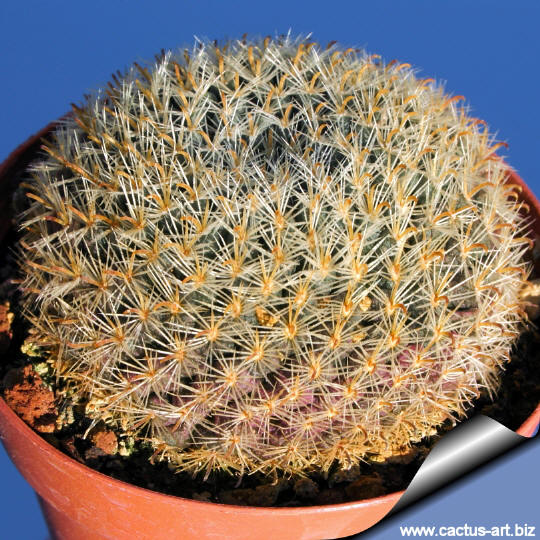 Cultivation: Needs regular water in summer, but for best appearance keep water off of the spines. Do not let the soil become too dry in winter, either. It does better with a good drained soil mix since it is a rot prone species, whose roots are easily lost in pots that stay damp for any length of time. It takes a couple of years to offset, but once it starts it can fill a 25cm pot in just a few years. Propagation: Seeds, offsets (Cuttings root quickly). Needs full sun or light shade in summer.
Pests & diseases: M. triachantha is especially prone to rot, therefore, under-pot in a smaller container filled with very porous compost.

Propagation: Seeds or graft. Seeds can be sown in the spring or summer. The seedlings should not be disturbed until they are well rooted, after which they can be planted separately in small pots.
Photo of conspecific taxa, varieties, forms and cultivars of plants belonging to the Mammillaria crinita complex (This taxon has lots of synonyms (like most mammillaria) with several controversial varieties and subspecies):