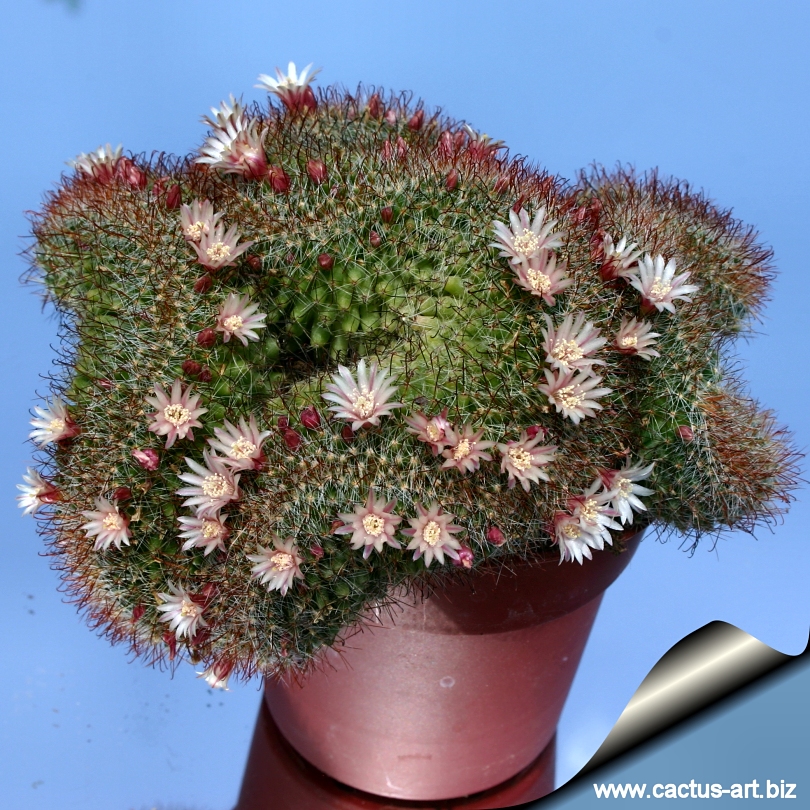 Mammillaria wildii f. cristata
Showy and easy to grow, it will form huge flowering mounds up 40cm (or more) in diameter.

Description: This is a nice crested plant particularly appreciated by collector for its free blooming habit. It can form large tangled, brain like mounds in few years.
Central spines: Short brownish yellow hooked, minutely pubescent like in the normal form.
Radial spines: 1 to 15, whitish, smooth, 4 to 5 mm long.
Flower: Creamy or pale brownish-yellow, to about 14 mm in diameter. Stigmas greenish white.
Fruit: Red.

Photo of conspecific taxa, varieties, forms and cultivars of plants belonging to the Mammillaria crinita complex (This taxon has lots of synonyms (like most mammillaria) with several controversial varieties and subspecies):
Family:
Cactaceae (Cactus Family)

Mammillaria wildii Hort. Berol. ex A. Dietrich
First description In: Allg. Gartenz. 4: 137 (1836) Forma cristata

Accepted Scientific name: Mammillaria crinita ssp wildii
Common Names include: Brain cactus
Origin: Garden origin (Nursery produced selection)
Conservation status: Listed in CITES appendix 2.
Synonyms:
Cactus wildianus
Chilita glochidiata
Chilita wildii
Ebnerella glochidiata
Ebnerella wildii
Mammillaria wildiana
Cultivation: Its qualities and ease of cultivation justify its being an old favourite. It doesn't requires any special treatment, but needs as much light as possible without burning the plant, in order to encourage the heaviest spine formation. Water regularly in summer, keep dry in winter.
Frost tolerance: -4° C.
Propagation: Seeds or offsets.