O. microdasys may look soft and touchable, but don't! The cladode is protected by innumerable minutely barbed glochids that detach very easily on being touched and stuck to the skin where they are difficult to see and remove. They can cause considerable discomfort.

.




Advertising




Family:
Cactaceae (Cactus Family)
Scientific Name: Opuntia microdasys (Lehmann) Pfeiffer
forma albata ( = albispina )
Scientific name: Mexico central and northern Mexico
Origin: Garden origin (Nursery produced cultivar)
Conservation status: Listed in CITES appendix 2.
Common Names include: Bunny Ears, Polka Dot Cactus
Cactus microdasys
Opuntia macrocalyx
Description: Freely clustering succulent with miniature pads. It forms a dense shrub, to 40-60 (occasionally more) cm high, up to1.5 m across.
Cladodes: 7.5-15 cm long by half as wide.
Spines: It has no spines, but instead has numerous white or yellow hair-like glochids 2-3 mm long in dense clusters.
Flowers: Lemon yellow flowers, 3-5 cm in diameter followed by red fruits.
Note: The very closely related Opuntia rufida differs in having reddish-brown glochids; it occurs further north in northern Mexico, and into western Texas. Some botanists treat the two as a single species.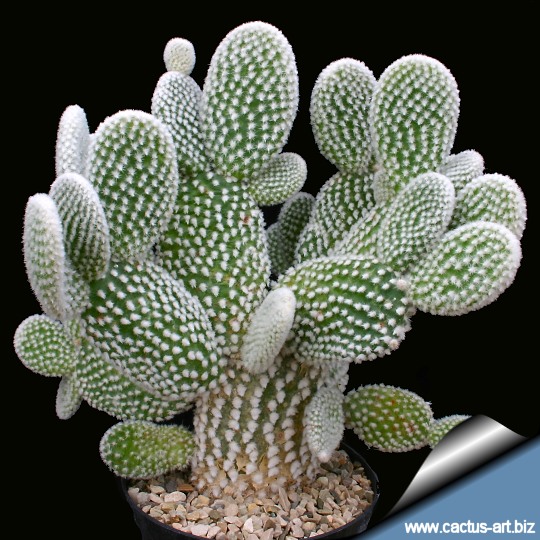 Cultivation: They are easy to culture. Require full sun to partial shade with a well-drained soil mix. The plants are watered and allowed to dry thoroughly before watering again. During the winter months, the plants enjoy a cold place where the temperature is dropped to 5/10° C, but hardy to -5° C for short periods of time if very dry. During this period water only enough to keep the pads from shrivelling.

Propagation: Cuttings taken at any time in the growing season. Remove a pad from the plant and then leave it in a dry sunny place for a couple of days to ensure that the base is thoroughly dry and has begun to callous. Pot up into a porous compost. Very easy, rooting within a month.

Photo of conspecific taxa, varieties, forms and cultivars of Opuntia microdasys.