Unusual twisted pads with bright yellow glochids.
Cultivation: They are easy to culture. require full sun to partial shade with a well-drained soil mix. The plants are watered and allowed to dry thoroughly before watering again. During the winter months, the plants enjoy a cold place where the temperature is dropped to 5-10° C, but hardy to -5° C for short periods of time if very dry. During this period water only enough to keep the pads from shriveling.




Advertising
Family:
Cactaceae (Cactus Family)
Scientific Name:
Opuntia microdasys
forma contorta
(syn: cristata or forma mostuosa)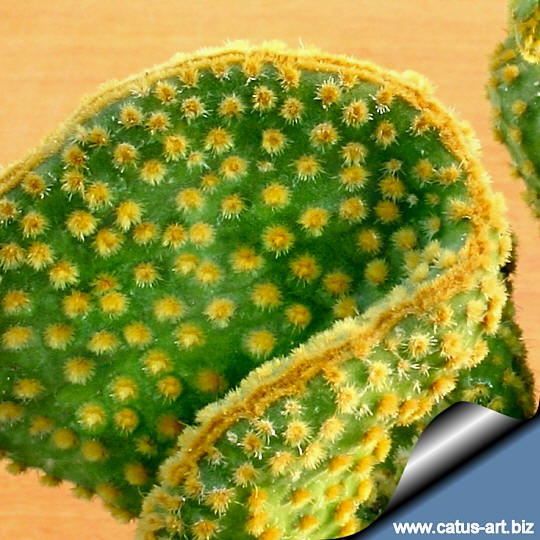 Some cladodes show a well marked line crest.

Propagation: Cuttings taken at any time in the growing season. Remove a pad from the plant and then leave it in a dry sunny place for a couple of days to ensure that the base is thoroughly dry and has begun to callous. Pot up into a porous compost. Very easy, rooting within a month.
Photo of conspecific taxa, varieties, forms and cultivars of Opuntia microdasys.