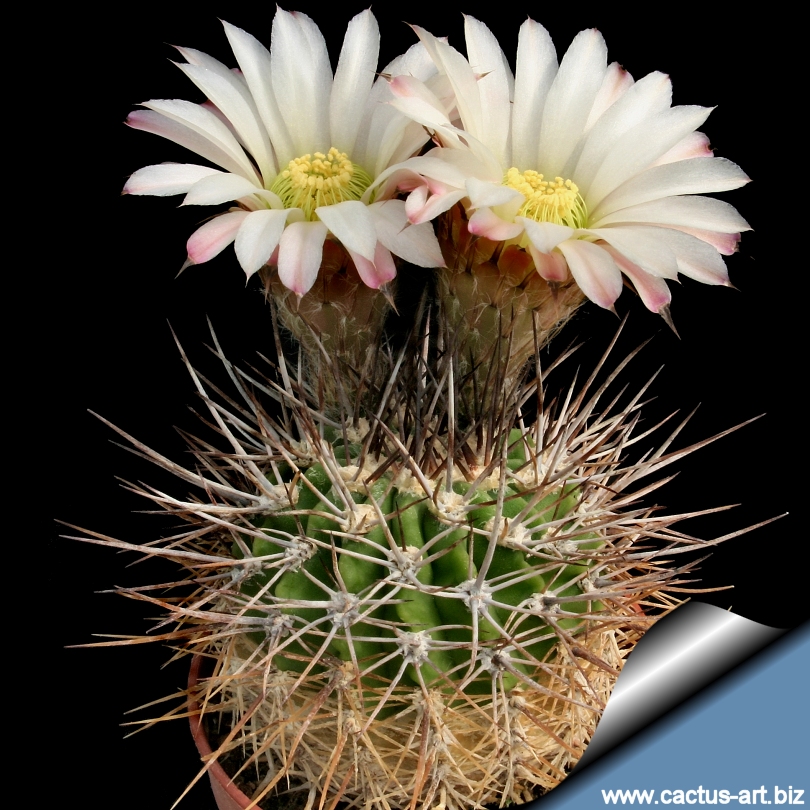 Acanthocalycium spiniflorum sp. P91 Nord Cordoba, Argentina
Pinkish spines, white flowers. Very nice plant.
Description: Solitary to slowly clumping.
Stem: Globular to elongate up to 60 cm tall, 15 cm in diameter.
Ribs: Numerous 16 to 20 acute;
Spines: 10 to 20 per areole, dense, thin, long, curved greyish-pink or greyish-honey-coloured.
Roots: Fibrous.
Flowers: A. spiniflorus flowers range from pink to white (4 cm to 7,5 cm in diameter) appear during late spring and summer, the form "violaciflorus" has lilac flowers. It starts blooming at around 6cm in diameter.
Cultivation: It is a summer grower species that offers no cultivation difficulties. Water regularly in summer (but do not overwater ) needs good drainage and very porous, keep rather dry in winter. Feed with a high potassium fertilizer in summer. It is quite frost resistant if kept dry (hardy to -12° C or less ) Need a very bright exposure, full sun is indispensable to keep plant compact with strong spines.

Propagation: Direct sow after last frost as it seldom produces offsets.

Photo of conspecific taxa, varieties, forms and cultivars of plants belonging to the Acanthocalycium spiniflorus complex.