Copiapoa lauii f. cristata
It is an interesting crested form easily identified just by its small size, brown soft stems covered with white, downy areoles and minute spines. It is the smallest of the Copiapoa's and a very beautiful plant that will turn almost black in direct light.


Description: Miniature crested Copiapoa. It can eventually grow into a 10cm clump
Stem: Grey to dark red-brown-grey, sometimes greenish or almost black. Line crest covered with whitish wool.
Ribs: Small tubercles in vertical rows.
Radials Spines: 4 to 7 insignificant whitish to yellowish.
Central spines: Absent.
<![if !supportLineBreakNewLine]> <![endif]> Flower: yellow with reddish petal tips, short, wide funnel-shaped.
Roots: large turnip-like


Photo and © copyright by Robert Maijer (Holland)


Cultivation: Cultivation: Need full sun to part sun, should be protected from excessive heat and sun in summer. Needs deeper pot and excellent drainage to accommodate the tap root. Keep warm and dry in winter to avoid rot. It needs mild heat in winter, avoid any frost.


Propagation: Stems planted as cuttings. Grafting is often used to speed growth rate and to create a back-up to plants in collection.






Advertising




Family: Cactaceae (Cactus Family)
Scientific name: Copiapoa laui Diers 1980
Original Description Published in: Kakteen und anderen Sukkulenten, 31(12):362
Forma cristata
NOTE: The species name is frequently misspelled 'lauii' .
Origin: Garden origin (Nursery produced cultivar)
Conservation status: Listed in CITES appendix 2.
Copiapoa hypogaea var. lauii (Diers) A. Hoffmann comb.nov. 1989
Published in: Cactaceas en la flora silvestre de Chile: 102-107 (1989)
Forma cristata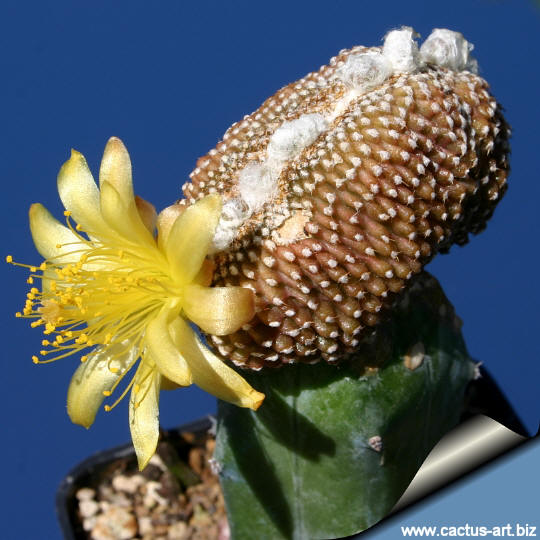 The flowers are very nice too.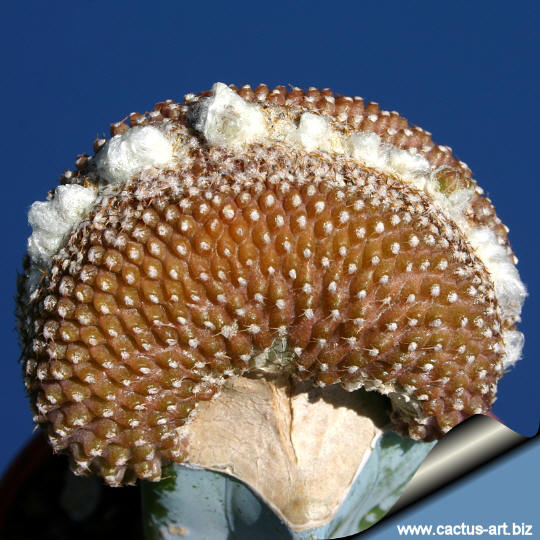 Photo of conspecific taxa, varieties, forms and cultivars of plants belonging to the Copiapoa hypogea complex (This Taxon has lots of synonyms ( like many other cacti) whit several controversial varieties and subspecies and comprises a multitude of different forms, but where each form is linked to others by populations of plants with intermediate characteristics):