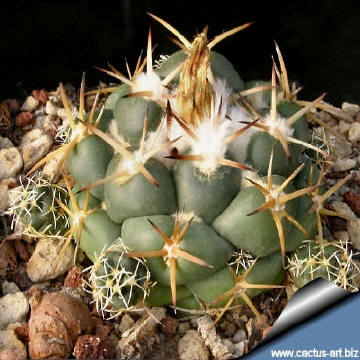 Description: Large, depressed-globular cactus, often clumping and group-forming, each head is up 18cm in diameter, very large tubercles 20-30 (60) mm wide, rounded on top, pentaedrical at the base, always broader than rounded , without glands, the tubercles axil is woolly.
Spines: The tubercles are capped with a 5-8 of stout reflexed radial spines, long (18-26 mm) never porrect, but adpressed to the body.
Flowers: Sweet smelling large 6 to 7.5 cm whitish to pink-coloured (Or yellow) are produced in late summer to autumn. very big, fruits are long (ca. 4 cm long, 1 cm diameter)
Cultivation: Full sun to light shade in summer. Water sparingly, keep drier in winter. Needs good drainage. Frost Tolerance: Hardy to -3°C.
Propagation: Offsets as it is a suckering cactus or by seeds.