Coryphantha elephantidens cv. TANSHI ZOUGEMARU
Is a very nice cultivar from Japan with short but strong spines and very large tubercles.

Description: Large, depressed-globular cactus up 18 cm in diameter, very large fat tubercles up to 60 mm wide, rounded on top, pentaedrical at the base, always broader than rounded, the tubercles axil is woolly.
Spines: The tubercles are capped with a 5-8 of with stout but short radial spines, long (5-15 mm) reflexed, adpressed to the body.
Flowers: Sweet smelling large 6 to 7.5 cm pink-colored are produced in late summer to autumn.




Advertising




Family:
Cactaceae (Cactus Family)
Scientific name: Coryphantha elephantidens Coryphantha elephantidens (Lemaire 1838) Lemaire 1868 ssp. elephantidens
cv. TANSHI ZUOGEMARU
Origin: Japan (Nursery produced cultivar)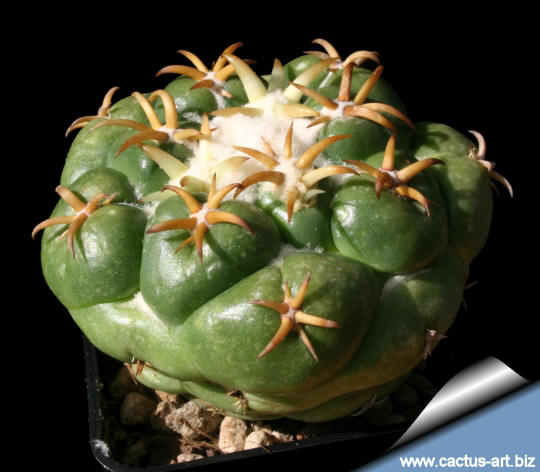 Cultivation: Easily grown in normal cactus compost, requires good drainage. Water in moderation, keep drier in winter. Full sun to partial shade in summer. In humid conditions, the exudation of nectar (if not completely removed by ants) can cause the formation of mould which leads to ugly black-colouring of the epidermis. To prevent this, spray the plant with water to remove the nectar. And provide very good ventilation. It flowers quite early, but needs about 8-12 years to reach the typical, definite outlook. It tolerates fairly low temperatures as long as it is kept dry (Frost Tolerance: Hardy to -3°C)
Propagation: Usually by grafting.

Photo of conspecific taxa, varieties, forms and cultivars of Coryphantha elephantidens: