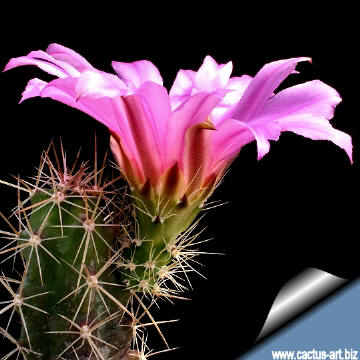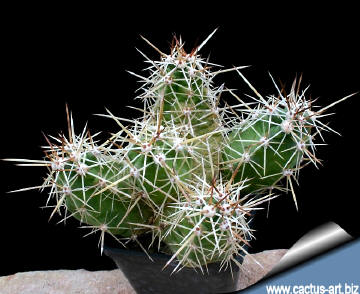 E. cinerascens has very spiny semi-erect or decumbent stems.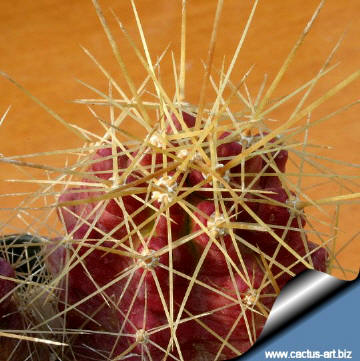 Some seedling take a strong nice red colouration during the winter month.
Description: Clumping semi-erect to decumbent cacti.
Stems: Soft, pale green (that redden in full sun and with freezing climate), up to 30 cm tall, 4-10 cm in diameter; erect or slightly prostrate as they age.
Ribs: 5 to 8 (-12) blunt prominent, slightly warty;
Spines: 1 to 4 (- 6) central spines, 2-4.5 cm long; 7-10 radials, 1-5.5 cm long.
Areoles: Circular largely spaced.
Flowers: Large pink to purple open petaled in abundance, up to 12 cm in diameter usually with yellow or cream throat. They come from the side areoles.
Fruit: Greenish spiny edible and delicious (tastes similar to strawberries just like Echinocereus engelmannii and Echinocereus stramineus do)
Echinocereus cinerascens comprises two forms:
E. cinerascens var. cinerascens: (México Hidalgo, Guanajuato, Querétaro, San Luís Potosí and Zacatecas) shortly cylindrical semi-erect , clumping with largely spaced areoles.

E. cinerascens var ehrenbergii (Mexico Hidalgo and Querétaro) clumping decumbent 4. flowers pink to purple. Radial spines more numerous 10-12, centrals 1-4. Flowers pink to purple.
Cultivation: Rot easily it is sensitive to overwatering (rot prone) needs a very good drainage to avoid rotting, Keep drier and cool in winter. Need full sun. Cold resistant above approx - 4C or less for short periods of time.

Propagation: Cutting as it branches freely from the base; Also can be grown from seeds.
Photo of conspecific taxa, varieties, forms and cultivars of plants belonging to the Echinocereus pentalophus complex (This Taxon has lots of synonyms (like most Echinocereus) with several controversial varieties and subspecies):