E. pentalophus Puerto Rico, Hidalgo Co, Texas, USA


Description: In age it forms clumps of up to 20 × 100 cm, it is a very fine sight in bloom, having few equals within the genus Echinocereus.
Stems: Erect or prostrate, branched above ground, sprawling and decumbent, reddish-purple to dark or yellowish-green. Stems are weak, 2.5 cm in diameter.
Ribs: 4 to 6, with low tubercles;
Central spines: 0 or 1 central spine;
Radial spines: 4 or 7, short, brown, yellowish, tan or ashy white, usually very stiff and straight.
Flowers: Huge, up to 12 cm long lilac, brilliant pink or magenta with a distinct white throat can almost hide the plant, blossoms in mid April-may.
Fruiting: 3-4 months after flowering. Fruits are green with white pulp.



Stigma

W

hite-throated flowers up to 12 cm long

Photo of conspecific taxa, varieties, forms and cultivars of plants belonging to the Echinocereus pentalophus complex (This Taxon has lots of synonyms (like most Echinocereus) with several controversial varieties and subspecies):


Advertising




Family:
Cactaceae (Cactus Family)
Scientific name: Echinocereus pentalophus (DC.) Lemaire.
in: Cactées, 56 (1868)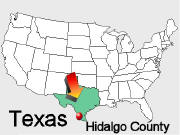 Origin: USA (Texas: S TX in Bexar (San Antonio),
N McMullen, and along Rio Grande in Starr, Hidalgo, to E Cameron.), central-eastern Mexico (Hidalgo, Queretaro, E Guanajuato, SE Coahuila, Nuevo León, San Luis Potosí, Tamaulipas).

Habitat: On alluvial coastal plains [pine-oak forests] on sandy grassy places associated with thorn scrub, Agave lechuguilla-Hechtia on rock in limestone cliffs. From sea level to ca.1400 m altitude;

Conservation status: Listed in CITES appendix 2.

Common Names: Lady Finger Cactus, Dog Tail, Alicoche.
Synonyms:
Cereus pentalophus de Candolle
In: Mém. Mus. Hist. Nat. Paris 17: 117. 1828
Cereus propinquus Salm-Dyck ex Otto
In : All. Gartenz 1 :336 (1833)
Cereus procumbens Engelm.
In : Mem. Amer. Acad. Ser 2, 4 :50, in adnot (1849)
Echinocereus procunbens (Engelm.) Lemaire, loc. cit. (1868)
Echinocereus pentalphus var. procumbens (Engelm.) P. Fournier
In: Cactées & Pl. Grasses, 25 (1935)
Cereus penthalophus var. leptacanthus Salm-Dyck 1849
Echinocereus leptacanthus (Salm-Dyck) K.Schum. 1898
Echinocereus leonensis,
Echinocereus pentalophus ssp. leonensis

SUBSPECIES
Echinocereus pentalophus subsp. pentalophus: It has a stem that can be either prostrate or erect, having 3 to 5 ribs and 3 to 7 spines per areole. It is the most common subspecies. The stems are slightly thicker and lighter green than the subspecies 'procumbens'.
Echinocereus pentalophus subsp. Leonensis: It has erect stems with 6 to 8 ribs and up to 9 spines per areole, and is thicker than the other subspecies..
Echinocereus pentalophus subsp. Procumbens: It has stems that are semi-prostrate, and the thinnest of all the subspecies; a deeper green in color; with 4 to 5 ribs, and 5 to 7 spines per areole.

The flowers on all subspecies are Bright pink & magenta with white or yellow throats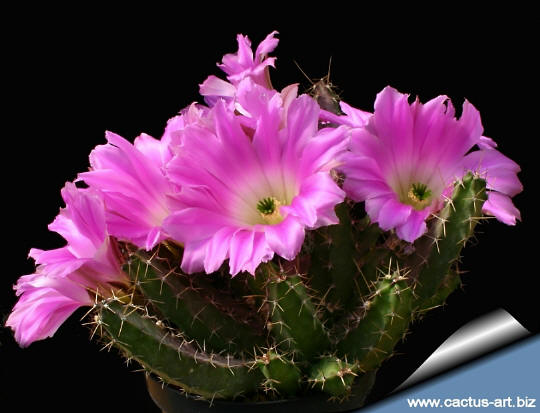 It has incredibly large and beautiful flowers almost hiding the plant.
Cultivation: This cactus is widely cultivated for its flowers, it is among the easiest species to grow, flower and propagate. Indicated for full sun exposure. Water regularly from March to October. Rot prone in winter, it needs good drainage, It should be kept in a cool place during winter rest (it can briefly tolerate temp. as low as -7°C). Without this cool winter period these plants normally won't get many buds. Cascading, clustering, great for a hanging display. Stems may possibly become purple and limp in winter, but revitalize in early spring.
Propagation: Seeds or cutting