Frailea castanea is one the of most fascinating cacti.

Description: This is a very singular miniature plant, and one the of most fascinating cacti.
Habit: Disk like, flattened to globose body.
Stem: It is diminutive in size and several remain solitary, never outgrowing 4-5 cm diameter. Stems are chocolate brown or dark reddish-green with 8-15 flat ribs.
Spines: 3-15 minute, short, black spider-like, appressed on the plant body and usually all bent downward.
Flower: Sulphur yellow, sometimes larger than the plant itself (4cm diameter). But don't be disappointed when the easily produced buds fail to open. Fraileas are cleistogamous meaning that their flowers produce seed without even opening. Without the need for pollination, hence the buds rarely reach full bloom and remain closed. They will open only in great heat in the hottest, brightest, afternoon sun, if at all.
Fruit: Dry indehiscent that detach easily, pericarp membranous, fragile that break easily releasing the seed.
Seeds: Very big 3-3,5 mm wide.



A dried fruit with the very large seeds (3 mm wide)

An unusual developed flower






Photo and © copyright by Mladen Turcinovic (Croatia)


Photo and © copyright by Mladen Turcinovicc (Croatia)

Cleistogamus flowers and self pollinated fruits


Advertising




Family:
Cactaceae (Cactus Family)
Scientific Name: Frailea castanea Backeberg 1936
Published in: Backeberg & F. M. Knuth Kaktus ABC: 248, 415, 1936.
Distribution: The plant is found from Southern Brazil to Northern Uruguay

Conservation status: Listed in CITES Appendix II
Synonyms: Frailea asterioides Werdermann 1937
Etymology: The genus name "Frailea" remembers the Spanish "Manuel Fraile", born in 1850 who was responsible for the cactus collection of the Department of Agriculture of the United States at the end of the XIX century.
The species name name "castanea" derives from the Latin name "Castanea" which means "chestnut" and refers to dark reddish-brown colour. (the Latin "Castanea" derives from the Greek. "kastaneia", which meant either "nut from Castanea" in Pontus (eastern Greece) or "nut from Castana" in Thessaly, but probably both places are named for the trees, and the word is probably borrowed from a language of Asia Minor. ( The specific name implies: "coloured like a chestnut").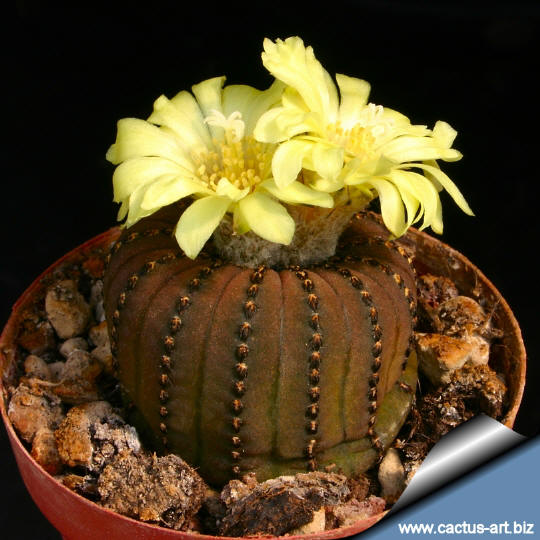 Flowers will open only in great heat on the hottest, brightest, sunny afternoon , if at all.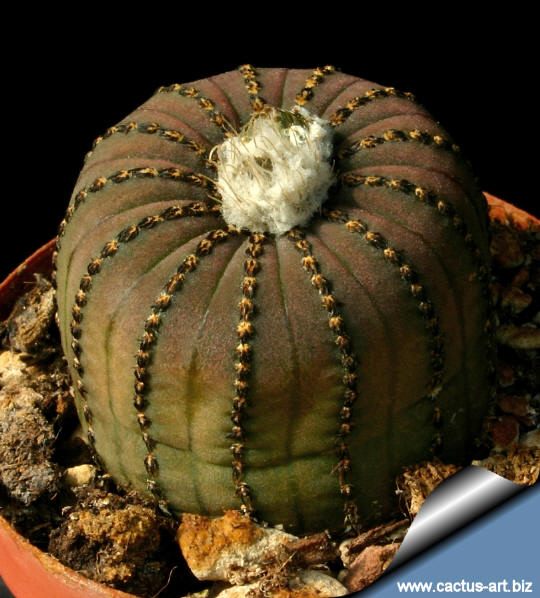 Cultivation: Grow them in rich, porous soil and let them dry out between waterings. These plants need a minimum temperature of 5-10° C (but occasionally temperatures of a few degrees below 0° are not dangerous)
Sun Exposure: It enjoys full sun, and it can take on a near black appearance when kept in bright light. In a shaded position the plants grow faster, but are not flat shaped and dark coloured.
Characteristically, during the dry season plants retract completely under the ground both in the wild and in cultivation too.
Notes: This plant is short living (It does not live long - about 10-15 years).
Propagation: With fresh harvested seeds or (rarely) by grafting.