Gymnocalycium cardenasianum P209 .
This is one of the finest gymnocalyciums with incredibly strong curved spines but extremely slow growing. If you only have one Gymnocalycium, this is the one to have!


.
.
.


Advertising




Family:
Cactaceae (Cactus Family)
Gymnocalycium cardenasianum F.Ritter
Scientific name: Gymnocalycium spegazzinii Britton & Rose ssp. cardenasianum (F.Ritter) R.Kiesling & Metzing

Etymology: Named "spegazzinii" after Carlos Luis Spegazzini, Italian mycologist and botanist established in Argentina and "cardenasianum" after Prof. M. Cardenas.
Origin: Bolivia (Tarija)
Conservation status: Listed in CITES appendix 2.

Description: Solitary, slowly growing cactus, densely covered with incredibly strong twisted spines
Stem: Grey green, compact, globular up to 12 (-15) cm wide 10 cm tall in cultivation (in nature it is partially underground) with a slightly concave woolly apex. Will not (usually) offset.
Spines: Long, stout, eagle claw-shaped, typically-twisted, up to 6cm long. Usually whitish or pale brown.
Flowers: Open petaled, funnel-shaped, about 4(-7) cm in diameter, 3(-5) cm tall and pinkish in colour. They grow near the apex. The flowers of Gymnocalycium cardenasianum have a tough time trying to force themselves through the fierce spines, and is quite rare to see an open flower because the spines prevent the flowers from opening properly.
Blooming season: They will bloom at an early age and bloom sparingly in mid-summer.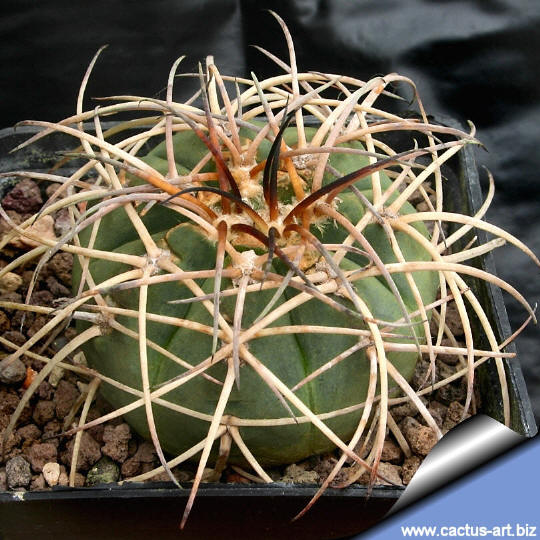 Cultivation: Keep this plant almost dry in winter at a minimum temperature of 0°C. It prefers a low pH compost; otherwise growth will stop altogether. The plant tolerates extremely bright situations (grow it hard, at a high position in the greenhouse, to try and develop the spines, which are strong and twisted)
but it enjoys some shade during the hottest part of the day in summer.
Propagation: Seeds (seldom produces offsets)
Seed Collecting: Permit fruit to ripen. Fruit must be significantly overripe before harvesting seed; clean and dry seeds
Photo of conspecific taxa, varieties, forms and cultivars of Gymnocalycium spegazzinii. (This Taxon shows a great degree of variation in stem and spines colouration, and also in size depending on the site of origin.)