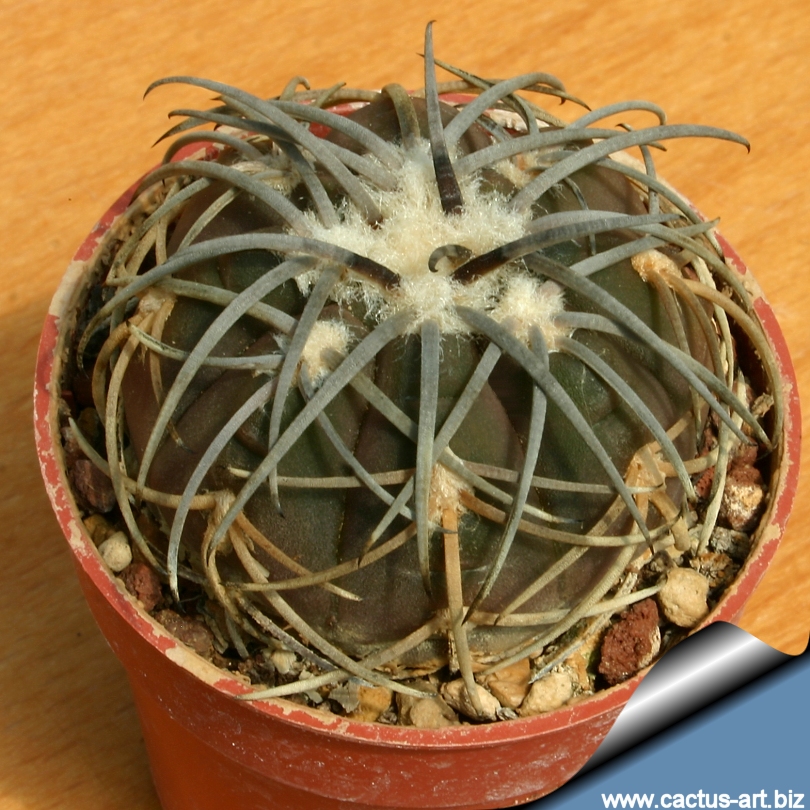 Gymnocalycium spegazzinii .
It is considered by many the most beautiful and charming species
in the whole large genus Gymnocalycium.
Description: Solitary
Stem: Noticeably flatten brownish-grey to amost black up to 18 cm (or more) in diameter, 10 cm tall in cultivation (in nature it is partially underground). Apex depressed an wolly. Will not offset.
Ribs: 10-33 evenly subdivided in confluent tubercle, not chinned. Transversal grooves rudimentary or absent.
Areoles: Elongate 8-10 x 4-6 mm yellowish o greyish.
Central spine: Absent.
Radial spines: 5-7(-9) strong, flattened 25-55 mm long, typically recurved, and add-pressed against the body and most attractive, the young spines are yellowish or blackish and become brownish-grey as they ages.
Flowers: Infundibuliform on the plant apex 70 mm long, 50 mm in diameter. Outer tepals spatulated whitish or pinkish with a glaucous green midrib. Inner tepals smaller, lanceolated white with a pink midrib and basally crimson coloured. Filament crimson, anthers pale-yellow, style white to pink, stigma with 10-16 white lobes.
Blooming season: Flowers are produced in late spring and remain open for up to twelve days.
Fruit: Elonged up to 35 mm long, green covered with bluish pruine.
Seed: Of the microsemineum type +/- 0.9mm.


Advertising
Family:
Cactaceae (Cactus Family)
Scientific name: Gymnocalycium spegazzinii Britton & Rose
Pubblished in: The Cactaceae; descriptions and illustrations of plants of the cactus family 3: 155, 1922
Etymology: Named after Carlos Luis Spegazzini, Italian mycologist and botanist established in Argentina.
Origin: North Argentina on hight altitude (from south-west of Salta to North-east of Catamarca, north-west of Tucuman and Cordoba) and in Bolivia

Habitat: Grows among scrubs of Trichocereus terschekii and sometimes of Cleistocactus sp. predominantly on plain 'meadows' rather than slopes, though without a trace of grass. In rather rich and water-absorbing soils.
Conservation status: Listed in CITES appendix 2.
Synonyms:
Gymnocalycium armatum
Gymnocalycium loricatum
Gymnocalycium horizonthalonium

Cultivation: Keep this plant almost dry in winter at a minimum temperature of 0°C, prefer a low pH compost otherwise growth will stop altogether. The plant tolerate extremely bright situations but enjoy some shade during the hottest part of the day in summer.
Propagation: Seeds (seldom produces offsets)
Seed Collecting: Permit fruit to ripen, fruit must be significantly overripe before harvesting seed; clean and dry seeds
Photo of conspecific taxa, varieties, forms and cultivars of Gymnocalycium spegazzinii. (This Taxon shows a great degree of variation in stem and spines colouration, and also in size depending on the site of origin.)