Gymnocalycium spegazzinii var. punillense VS79 Salta, El Obelisco, 1600m.

Description: G. spegazzini v. punillense is a beautiful slow- growing plant with a noticeably flattened dark brown to almost black body. It is easy to grow. Will not offset. The spines are typically recurved, add-pressed against the body, and most attractive.
Flowers: Pink, produced in late spring, they remain open for up to twelve days.


Cultivation: Keep this plant almost dry in winter, at a minimum temperature of 0°C. Prefer a low pH compost; otherwise growth will stop altogether. The plant tolerates extremely bright situations, but enjoys some shade during the hottest part of the day in summer.

Propagation: Seeds (seldom produces offsets)

Seed Collecting: Permit fruit to ripen. Fruit must be significantly overripe before harvesting seed. Clean and dry seeds

Photo of conspecific taxa, varieties, forms and cultivars of Gymnocalycium spegazzinii. (This Taxon shows a great degree of variation in stem and spines colouration, and also in size depending on the site of origin.)


Advertising




Family:
Cactaceae (Cactus Family)
Scientific name: Gymnocalycium spegazzinii var. punillense
H. Till & W. Till,
Published in: Gymnocalycium 7(1): 119, 1994

Holotype: H.Till 93-605, 12.2.1993, Argentina, Prov. Salta, Tal des Rio Las Conchas, La Punilla, 1670 m . (WU).
Note: Named after its habitat in La Punilla (Argentina, Prov. Salta, Rio de Los Conchas)
Conservation status: Listed in CITES appendix 2.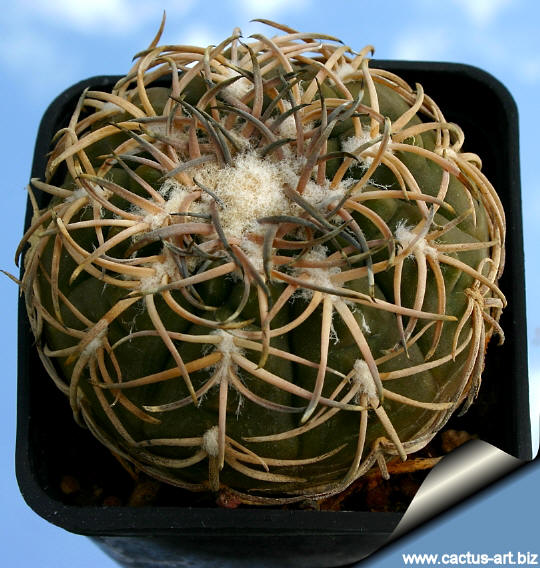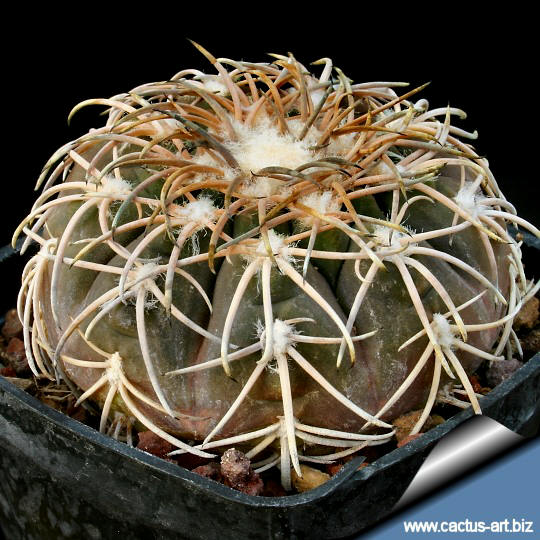 This species is considered one of the most desirable of the Gymnocalyciums, it has a dark brown to almost black body, nicely recurved spines, pink flowers.