Family:
Cactaceae (Cactus Family)
Sulcorebutia patricii n. n. Fischer 2007
Scientific name: Sulcorebutia crispata ssp. hertusii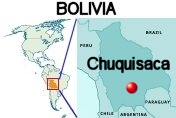 Origin & Habitat: S. patricii grows on stone slopes near Cochi & Duraznillo dpt. Chuquisaca , Bolivia 2572 m 2800 m.
Conservation status: Listed in CITES appendix 2.
Etymology: Named after Patricia Monica Michel Mendosa wife of Brian Bates, senior lover of cacti and botanical explorer of Bolivia
Sulcorebutia tarabucoensis ssp. patriciae
Sulcorebutia gerosenilis var. patricii R. Martin 2007
Sulcorebutia senilis n.n.
Sulcorebutia hertusii
Sulcorebutia tarabucoensis ssp. hertusii (Halda et Horacek 2000)Gertel et Wahl 2004
Sulcorebutia crispata Rausch. (Holl.)
In: Succulenta 62 : 137 - 138; 1983
Sulcorebutia canigueralli subs. crispata
S. gerosenilis and S. patriciae are definitively synonyms of S. crispa(ta) v. hertusii.