T. (Lodia) mandragora is a small cactus, still very rare in cultivation.
Plants and seeds are seldom offered for sale.


Description: Solitary (may branch if the growing tip is damaged)
Stem: Grey-green , 4-6 cm in diameter spherical to turbinate, that become narrower at the collar. It is composed of hard, spirally arranged rhomboid and close-set 4-angled tubercles. These tubercules are flattened and almost truncated above, and somewhat horny or keeled below.
Roots: Strong tuberous roots
Central spines: 2 whitish with dark brown tips, 2 cm long;
Central spines: 12 radials, 5-8 mm long.
Flowers: White with pink midstripes, on summer days, 2 cm long, 2.5 cm in diameter.
Fruits: without scales, that split open when ripe.


Many of the plants sold as "mandragora" are T. subterraneus or other species not related to the true mandragora. The seeds of this species are very different from that of subterraneus and related species (beguinii, booleanus, pailanus, zaragozae). The Seed morphology of this species is particular and similar to Pediocactus.

.


Advertising




Origin: Mexico (Coahuila: Parras, Viesca)
Conservation status: Listed in CITES Appendix I
Rapicactus mandragora,
Neolloydia mandragora,
Gymnocactus mandragora,
Turbinicarpus mandragora,
Pediocactus mandragora,
Napina mandragora
Lodia mandragora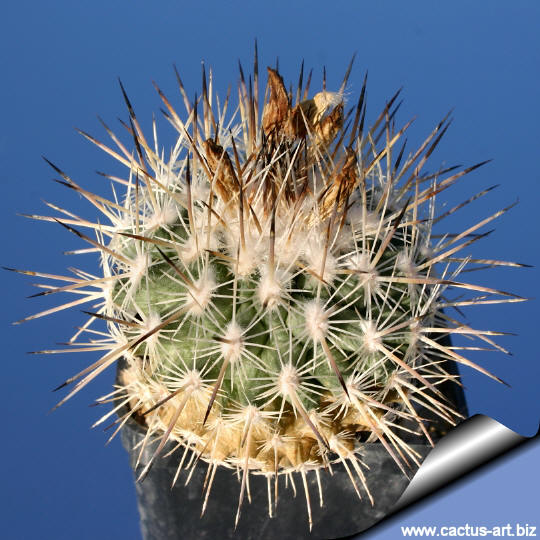 Cultivation: It's a fairly easy and robust species to cultivate, but extremely slow growing. It needs a very well-drained soil, and requires strong sun to part sun to keep the plant compact and low and to develop a good spinal growth. Waterings should be rather infrequent to keep the plant compact, and avoid its becoming excessively elongated and unnatural in appearance. Furthermore it has a tap root, and watering it properly is often difficult, because it tends to crack open or rot if over-watered. Careful watering away from the body of the plant will allow the areoles to keep their wool. Keep dry in winter, or when night temperatures remain below 10° C. It is hardy to -4°C for a short period. Assure a good ventilation.
Reproduction: From seed, since the plant rarely produces plantlets, or grafted.
T. mandragora is very slow growing and rot prone when cultivated on its own roots, this is the reason for its rarity.
Photo of conspecific taxa, varieties, forms and cultivars of the Turbinicarpus mandragora complex (This taxon has lots of synonyms, with several controversial varieties and subspecies):