Description: Usually solitary

,

club-shaped cactus.
Stem: Globular to cylindrical, up to150 mm high

,

50mm wide

,

greenish-blue with a woolly apex.
Areoles: The areoles in the flowering area are very woolly.
Root: Semi-taproot connected to the stem by a rather slender neck
Tubercles: Pyramidal, conical.
Radial spines: 21-25

,

bent slightly backwards, thickened at the base, glassy white with brown tip 3-6

mm long, except for 2 or 3 bristle-like

ones

, up to 2 cm.
Central spines: 2, brownish black

,

turning grey with age, one erect, darker, around 15-20

mm long.
Flowers: Slender funnel form, pale yellow to violet

,

18-20

mm long with darker mid-vein, 15-30 mm wide,1-2 cm long.
Blooming season: Spring to summer
Fruits: Greenish-brown

,

small.









Advertising




Scientific name: Turbinicarpus zaragosae (Glass & R.Foster) Glass & A.Hofer ex Glass, 1997

Origin: Found in the municipalities of Zaragosa, Nuevo Leon, Mexico.

Habitat: Grows in nearby gypsum hills. Altitude 1500-1700m

Conservation status: Listed in CITES Appendix I
Turbinicarpus mandragora ssp. zaragozae (Glass & Foster) J. Lüthy
Gymnocactus subterraneus var. zaragosae Glass & Foster 1978
Neolloydia subterranea var. zaragosae (Glass & Foster) E.F.Anderson 1986
Turbinicarpus subterraneus var. zaragosae (Glass & Foster) A.D.Zimmerman 1994
Turbinicarpus zaragosae (Glass & Foster) Glass & Hofer ex Glass 1997
Pediocactus subterraneus (Backeberg) J.J. Halda, Acta Mus. Richnov. Sect. Nat., 5 (1): 17, 1998
Pediocactus subterraneus v. zaragosae (Glass & R.A. Foster) J.J. Halda, Acta Mus. Richnov. Sect. Nat., 5 (1): 18: 1998

Cultivation: It's a fairly easy species to cultivate, but is quite prone to rot, especially after the first flowering. Needs a very well-drained soil. Will benefit from adding up to 30% Gypsum to the potting mix.
Requires strong sun to part sun. Waterings should be rather infrequent to keep the plant compact, and avoid it becoming excessively elongated and unnatural in appearance.
During the winter rest period they should be dry and cool. Interrupt watering when night temperatures remain below 10° C. It is hardy to -4°C for a short period.
Assure good ventilation.
Propagation: Seeds.


An old specimen


Flowers are multicoloured or bi-coloured, from yellowish-white to almost violet-pink.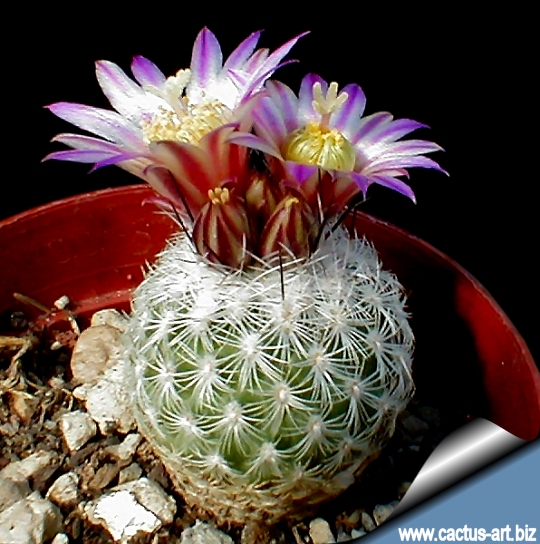 A young violet flowering specimen with still juvenile spines
SB1437 Zaragosa, NL, Mexico

Photo of conspecific taxa, varieties, forms and cultivars of the Turbinicarpus mandragora complex (This taxon has lots of synonyms, with several controversial varieties and subspecies):