Huernia macrocarpa
(Formerly: Huernia macrocarpa v. schweinfurthii)

Etymology: The genus name "Huernia" is named after the missionary Justus Heurnius (note the spelling of the genus name is wrong!) who introduced the first stapeliads in Europe in the XVII century.The species name "macrocarpa" derives from the Greek adjective "macros (μακρος) " meaning "big, long; tall, high, deep, far " plus "o" (connective vowel used in botanical Latin, usually for Greek words) and "carpos (καρπος) " meaning "fruit" followed by the latinizing suffix "us" . (The specific name implies: "large fruited")


Purple tone of a stem during winter rest.


Colour intensity of flowers is variable, even on the same plant

Description: Small clumps of basally branching stems that to spread sideways or trail and will rapidly fill an entire pot. Stem: About the length of a finger 9-25 cm long (rarely growing taller than four to 20 cm), fleshy, glaucous, cylindrical just at the base then subquadrangular; angles coarsely toothed; teeth fleshy 7-8mm. long, 3-4mm. thick at the base, acute, recurved, spinescent at the apex, separated by sinuses along the stem angles 6 to 8mm. wide.
Flower: 1 to several from the base of young stems typical 5 lobed,
Pedicel: 5mm. long, pale green glabrous.
Sepals: 10mm. long, 1mm long at the base, gradually tapering to a very fine hairlike point, glabrous.
Corolla: Campanulate, somewhat more than 1cm. Long, and 2cm. at the greatest diameter; lobes broadly triangular, acute, whit an intermediate point hardly 1mm. long in the flat sinuses between; outside greenish-yellow, prominently 5-nerved, minutely papillate, glabrous; inside everywhere except in lower portion of tube covered with little bristle-like processes becoming smaller toward the apex of the lobes, creamy-yellow marked with deep purplish-crimson concentric broken lines, narrowly marginates on lobes with same colour and a spot of same at the sinuses; tube broadly Campanulate, about 7mm. deep; lobes 6mm. long, 7mm. broad, slightly spreading, deltoid, acuminate, not ciliate.
Outer corona: Very shortly 5-lobed, velvety purplish-crimson; lobes transversely oblong, emarginated.
Inner corona: Lobes broad at the base, tapering to a subobtuse point, very minutely pubescent , connivent and rising slightly above the anthers, purplish whit yellow knobs at the base.
Phenology: Blossoming time:July-October




Frost Tolerance: It is usually recommended to overwinter them in warm conditions (at 10 deg) but despite the African origin they seem to grow well and flower without the extra heat which one might have thought necessary and occasional temperature near 0 deg. are tolerated if kept dry. Potting medium: Since roots are quite shallow, use a cactus mix or add extra perlite or pumice to regular soil potting soil. A gritty, very free-draining compost is suitable, and clay pots help the plants to dry out between watering.
Pest and diseases: Huernia species vary in their susceptibility to rotting, but are generally fairly easy to grow, especially if kept pest-free. They are very susceptible to stem and root mealy bugs, and damage from these may well initiate fungal attack. If you do have problems with a stem or with basal rotting, you can reliably isolate the healthy parts, dry them off, and re-root them in moist compost.





Advertising




Family:

Asclepiadaceae (Apocynaceae)

(Milkweeds family)

Scientific Name:
Huernia macrocarpa (A. Richard) Sprenger 1892
Published in: Dammann: Cat., 4. 1892
Basionym
:
Stapelia macrocarpa A. Richard 1851
Published in:
Tentamen Flora Abyss., ii. 50. 1851
Vernacular names comprise: Starfish flower, carrion Plant
The species Huernia macrocarpa is now a complex grouping of plants that has recently been expanded to include amongst others Huernia arabica, H. penzigii, H. macrocarpa v schweinfurthii, and H. macrocarpa v cerasina.

Distribution: This plant came from Ethiopia but the members of the enlarged complex "macrocarpa" has a ample distribution encompassing Sudan, Eritrea, Ethiopia, Saudi Arabia and Yemen

Habitat: Grows on granite rocks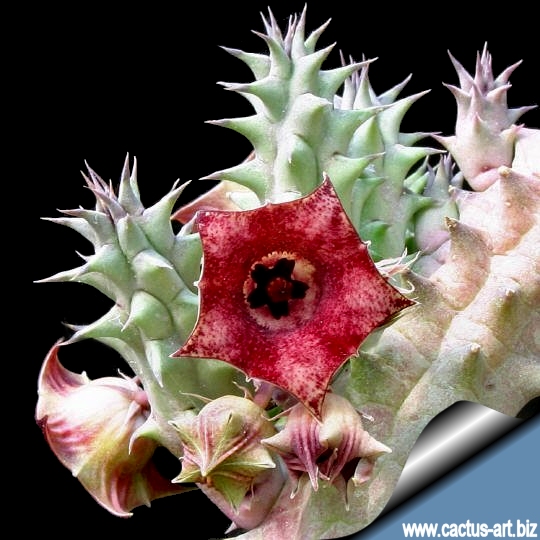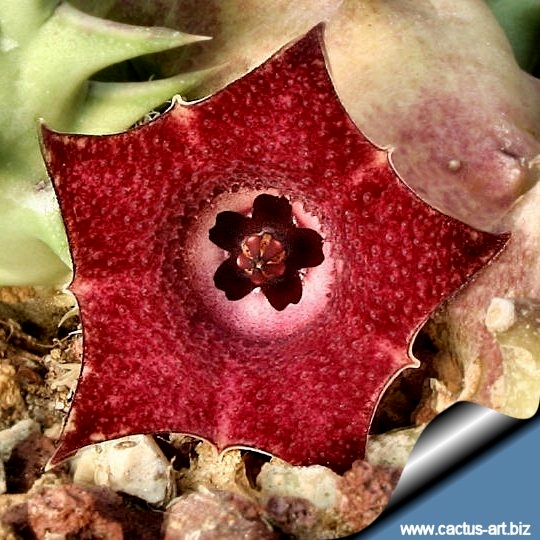 Outer corona velvety dark purplish-crimson with transversely oblong lobes , emarginated. Inner corona: Lobes broad at the base, tapering to a subobtuse point, purplish whit yellow knobs at the base.
Cultivation: Not difficult to grow. Huernia require moderately watering through the growing season but enjoy plenty of water and some fertiliser in hot weather, this helps them to flower freely. Water more sparingly in winter according to temperatures. But, as with most asclepiads, it is unwise to leave them wet in cold weather.

Propagation: Easiest with stem cuttings. Allow cuttings to dry a day before planting. Stems must be laid (Not buried) on gritty compost and will then root from the underside of the stems. It can also be increased from seeds sowing in spring in moist, sandy peat moss. Barely cover seeds. Seeds germinate quickly.