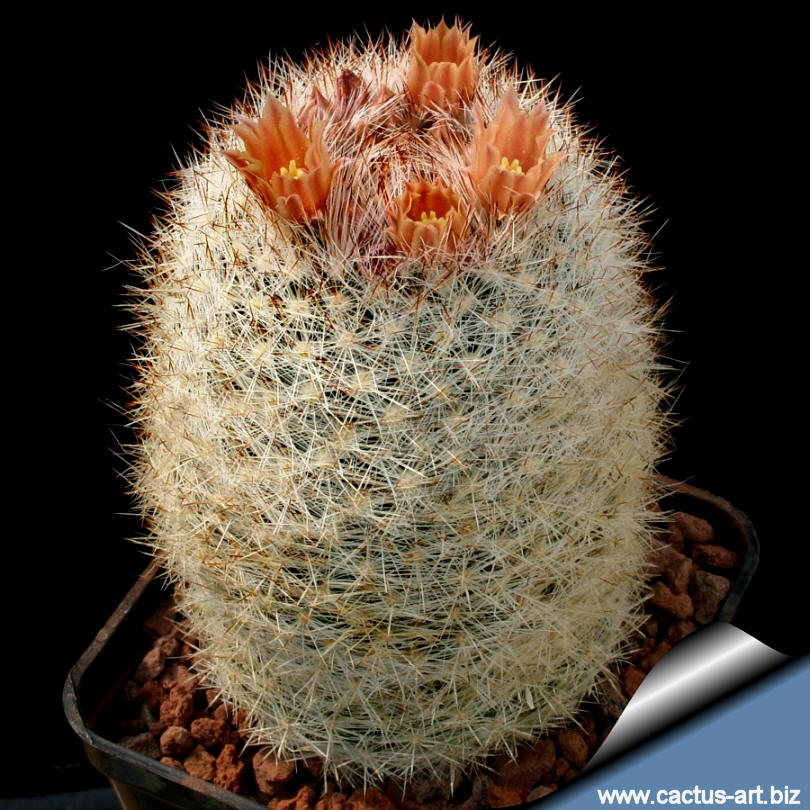 Escobaria dasyacantha ssp. chaffeyi
SB839 from the Saltillo area of southern Coahuila, Mexico.
Forms elongated balls often so densely swathed with fine cream-brownish spines that it has a soft hazy appearance.
Description: E. chaffeyi is a small nipple Cactus forming solitary (or rarely with 2-5 branches) elongated ball densely covered with cream-brownish spines with darker tip.
Stems: It is globular in its youth although it tends towards cylindrical with age, 4.5-15 tall, 3-6 cm wide
Tubercles: 7-8 × 3-5mm, moderately soft, concealed by the numerous spines.
Radial Spines: 21-31 per areole 6-10 mm long; interlacing cream-brownish, bristly with dark pink, red-brown to nearly black tips 26-42 per areole;
Subcentral spines: Several, appressed;
Central spines: Inconspicuous one to 9 per areole, short, spreading, straight, longest spines 12-17 mm.
Roots: Diffuse or whit a short taproot.
Flowers: Nearly apical that form a ring round the top of the stem, 15-30 mm, The flower colour is rather variable, pale-pink, brik-red, straw, brownish-purple or rarely light green with a darker pinkish to brown or brownish green midstripes.
Blooming: March-may.
Fruits: Bright red, clavate, cylindric, or narrowly ellipsoid, 13-35mm long not very succulent; floral remnant strongly persistent.

Cultivation: Easy to cultivate in a very gritty substrate with much drainage (very rot-prone). Water regularly in summer, but do not overwater (very rot prone), it prefer a completely dry place during winter . An unheated greenhouse would be perfect. it is hardier than one would suppose - winter hardiness estimates I've read range from -13C to -17C. Full sun to light shade.
Propagation: Seeds (no dormancy requirement, they germinate best at 25°C in spring ) or usually by offsets (readily available), or occasionally grafted.