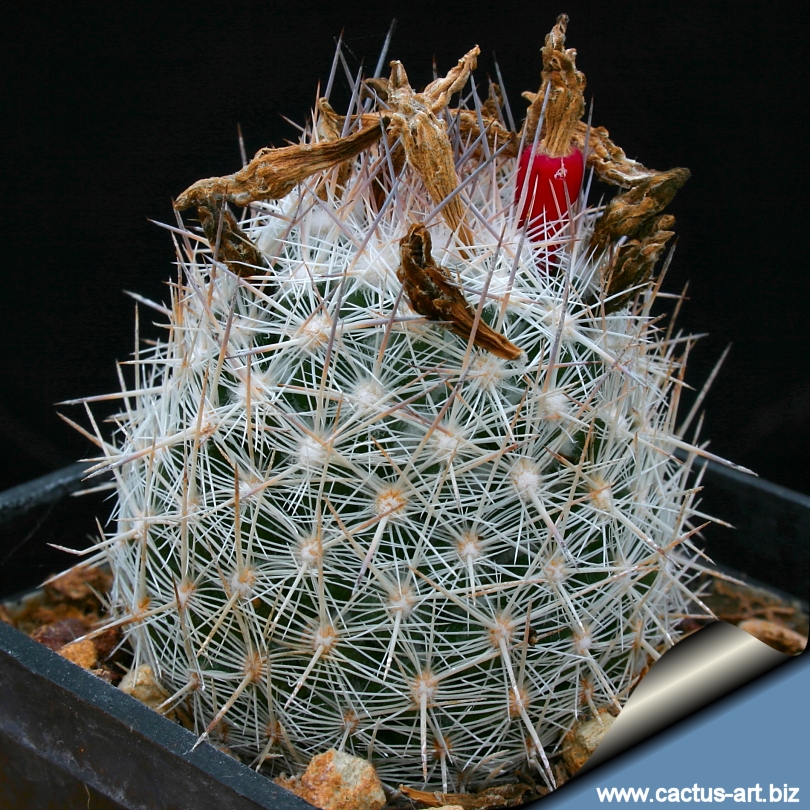 E. tuberculosa (SB79 Jimenez, Chihuahua, Mexico)

Description: Branched and small stemmed (to 50 branches) but sometimes solitary and large stemmed. Stems ovoid to cylindric up to 12 (18) cm tall, 7 cm in diameter. Tubercles are more or less regularly arranged in spirals, and firm; areolar glands are absent. Spines 21-41 per areole, ashy white, grey, or pale tan in colour, with the tips of the largest spines reddish brown or reddish black, all straight. Radial spines numerous (15-41 per areole), 4-15 mm long, grey to white, sometimes as many as 30. Central spines several, stouter than radials, brown to blackish or colored only at tips
The flowers are apical or nearly so, pure white, pale rose-pink, or pale lavender-pink, darker centrally, 2.5 to 4 cm in diameter. The fruit is oblong, bright red not very succulent; the floral remnant is strongly persistent.
Photo of conspecific taxa, varieties, forms and cultivars of plants belonging to the Escobaria tubercolsa complex (This Taxon has lots of synonyms whit several controversial varieties and subspecies and comprises a multitude of different forms, but where each form is linked to others by populations of plants with intermediate
Cultivation: Easy to cultivate in a very gritty substrate with much drainage. Water regularly in summer, but do not overwater (very rot prone), it prefer a completely dry place during winter . An unheated greenhoouse would be perfect. It can survive low temperatures (appr. -12 C). Full sun to light shade.
Propagation: Seeds (no dormancy requirement, they germinate best at 25°C in spring ) or usually by offsets (readily available), or occasionally grafted.

Advertising
Conservation status: Listed in CITES appendix 2

Scientific name: Escobaria tuberculosa (Engelm.) Britton & Rose
Cact. 4: 54, fig. 51. 1923. Mammillaria tuberculosa Engelm., Proc. Amer. Acad. Arts and Sci. 3: 268. 1856.

Type locality: LT - Mexico: Chihuahua: Flounce Mountains, below El Paso, below San Elisario on the Río Grande.

Type specimen: LT: MO. Bigelow s.n., Jun 1852. The LT was designated by Benson, Cact. U.S. Canada 962 (1982), but specific sheet is not indicated.
Common English Name: Cob corycactus, Incense Corycactus, white column foxtail cactus, white-column foxtail cactus
Origin: Southeastern Arizona, southern New Mexico and Trans-Pecos Texas south into northern Mexico (Coahuila, Chihuahua, and Durango).

Synonyms:
Coryphantha dasyacantha var. varicolor (Tiegel) L.Benson
Coryphantha strobiliformis auct. non (Poselg.) Orcutt [misapplied]
Coryphantha dasyacantha var. varicolor (Tiegel) L. Benson
Coryphantha strobiliformis auct. non (Poselg.) Orcutt
Coryphantha tuberculosa Marshall
Escobaria dasyacantha var. varicolor (Tiegel) D.R. Hunt
Escobaria strobiliformis auct. non (Poselg.) Scheer ex Bödecker [misapplied]
Escobaria tuberculosa var. varicolor (Tiegel) Brack & Heil
Escobaria dasyacantha var. varicolor (Tiegel) D.R. Hunt
Mammillaria tuberculosa Engelm
Mammillaria varicolor (Tiegel) Weniger
Mammillaria tuberculosa Engelm.
Cactus tuberculosa Kuntz
Cactus strobiliformis Kuntz