Escobaria lloydii Las Palomas

.

.


Advertising




Scientific name: Escobaria lloydii Britton & Rose

The Cactaceae (1923), page 57 Escobaria lloydii N.L.Britton et J.N.Rose sp. nov. Collected by F. E. Lloyd in foothills of Sierra Zuluaga, Zacatecas, Mexico, March 29, 1908 (No. 5).
Geographic Range: Mexico, South of Coahuila and North of Zacatecas (Type locality Sierra de la Zulaga).
Habitat: Mattoral microfilo and rosetofilo, on stony soil, gravely bajadas, silty flats; at moderate elevations in Chihuahuan Desert Mountains.
Conservation status: Listed in CITES appendix 2.
Etymology: Named after Francis E. Lloyd (1868-1947), English-born cytologist, working in Canada and USA.
Coryphantha lloydii (Britton & Rose) Fosberg
In Bull. S. Calif. Acad. Sci. 30: 58. (1931).
Description: Small plants completely covered with spines, growing in clumps and and resembling a small species of Echinocereus.
Stem: Up to 7 cm tall, diameter 3,5 cm, branching from the base. Epidermis pale green.; old plants bearing naked corky tubercles.
Areoles: Roundish with white wool.
Radial spines: Approx 20 pure white, spreading, slender, up to 1 cm long.
Central spines: 4 to several, stout , 1,5 to 2,5 cm long white with brownish to blackish tip.
Flowers: 2.5 cm. Long, creamy-white or greenish eventually with a darker mid ribs on outside, filaments, style and stigma lobes greenish.
Fruit: Globular or ovoidal up to 12 mm long, red at maturity.
Seeds: Black, pitted, globose, 1 mm. in diameter.
This species is near Escobaria tuberculosa, but it has much stouter central spines and greenish white, eciliate inner perianth-segments.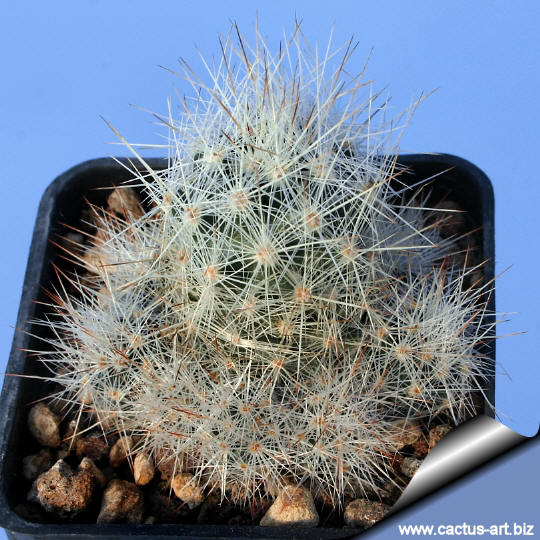 Cultivation: Easy to cultivate in a very gritty substrate with much drainage. Water regularly in summer, but do not overwater (very rot prone), it prefer a completely dry place during winter. An unheated greenhouse would be perfect. It can survive low temperatures (approx -12 C). Full sun to light shade
Propagation: Seeds (no dormancy requirement, they germinate best at 25°C in spring ) or usually by offsets (readily available), or occasionally grafted.

Photo of conspecific taxa, varieties, forms and cultivars of plants belonging to the Escobaria tubercolsa complex (This Taxon has lots of synonyms whit several controversial varieties and subspecies and comprises a multitude of different forms, but where each form is linked to others by populations of plants with intermediate