Gymnocalycium achirasense


Description: G. achirasense is a (usually) solitary geophytic cactus.
Stem: Flattened or globular, grey-green to olive green, 5-6 cm in diameter, up to 5 cm tall, but in cultivation it can become 7-8 cm high (or more) over the years.
Ribs: 12-15
Radial spines: Stout 10 up to 12, but usually less in young plants, bent against the body.
Central spines: Usually absent, or 1 erected one.
Flowers: Are some of the largest in this genus, often growing larger than the plant!, 6 up to 7 cm long and wide, dark to light purple, with a darker mid-strip.
Fruit: Green
Seeds: Dark brown.


Cultivation: It is a summer grower species that offers no cultivation difficulties. Water regularly in summer (but do not overwater ) Keep this plant almost dry in winter at a minimum temperature of 0°C, prefer relatively rich substrate and low pH compost (if possible not limestone) otherwise growth will stop altogether. Feed with a high potassium fertilizer in summer. It is quite frost resistant if kept dry (hardy to -5° C)
Sun Exposure: Light shade. It may tolerate bright situations but is likely to suffer from sun scorch or stunted growth if over exposed to direct sunlight during the hottest part of the day in summer. This plant needs plenty of space for its roots, repotting should be done every other year or when the it has outgrown its pot. This species is particularly easy and accommodating, seldom suffer of cryptogamic diseases.

Propagation: Direct sow after last frost. (seldom produces offsets)

Seed Collecting: Permit fruit to ripen. Fruit must be significantly overripe before harvesting seed; clean and dry seeds

This species has olive green stems with stout spines.



Advertising




Family:
Cactaceae (Cactus Family)

Scientific name: Gymnocalycium achirasense H. Till & Schatzl 1979 ex H. Till
Published in: KuaS 38(8): 191, 1987
Origin: Argentina (San Luis)
Conservation status: Listed in CITES appendix 2.
Gymnocalycium monvillei ssp. achirasense (H. Till & Schatzl ex H. Till) H. Till,
Published in: Gymnocalycium 6(3): 102, 1993
Gymnocalycium horridispinum var. achirasense (Till & Schatzl) Lodé
Published in: Cactus Aventures International Nr. 27: 29, 1995 und Fichier Encycl. Cact. 16: 1473, 1995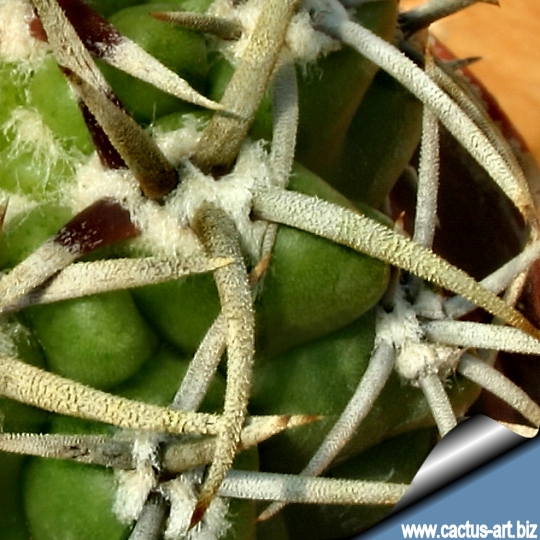 Spines are covered by characteristic imbricate scales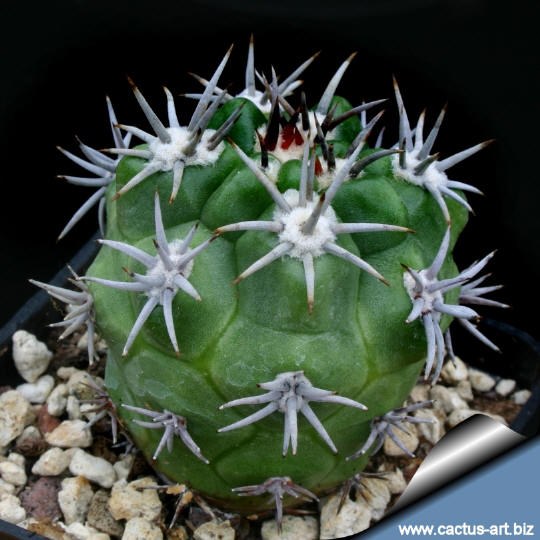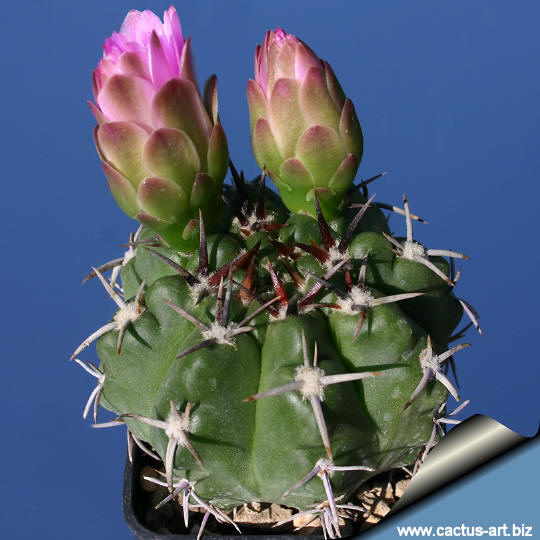 Photo of of plants belonging to the Gymnocalycium monvillei complex (This Taxon has lots of synonyms ( like many other gymnocalycium) whit several controversial varieties and subspecies and comprises a multitude of different forms, but where each form is linked to others by populations of plants with intermediate