Gymnocalycium achirasense var. orientale
This beautiful species has extremely large, light, pinkish-white and lavender flowers.

Description: G. achirasense is a (usually) solitary geophytic cactus.
Stem: Flattened or globular, dark-green, grey-green to olive green, 5-6 cm in diameter up to 5 cm

in height

, but in cultivation it can become 7-8 cm high (or more)

over

the years.
Ribs: 12-15
Radial spines: Stout, aggressive, 10 up to 12, but usually

fewer

in young plants

,

bent against the body.
Central spines: Usually absent or 1 erected
Flowers: Are some of the largest in this genus, often growing larger than the plant!, 6 up to 7 cm long and broad, whitish, pale pink to lavender

,

with

a

darker mid

-

strip.
Fruit: Green
Seeds: Dark brown.


Cultivation: Summer grower, water regularly in summer, keep rather dry in winter. It grows well in full sun or light shade.

Photo of of plants belonging to the Gymnocalycium monvillei complex (This Taxon has lots of synonyms ( like many other gymnocalycium) whit several controversial varieties and subspecies and comprises a multitude of different forms, but where each form is linked to others by populations of plants with intermediate


Advertising




Family:
Cactaceae (Cactus Family)

Gymnocalycium achirasense v. orientale
Scientific name: Gymnocalycium monvillei subsp. achirasense var. orientale Neuhuber
in Till, H. & Neuhuber, G.

Type: G. Neuhuber 91-341/1157, 4.12.1991, Argentina, Prov. Cordoba, bei Alpa Corral, 850 m s.m. (WU).
Origin: Argentina (Cordoba)
Conservation status: Listed in CITES appendix 2.
Synonyms:
Gymnocalycium monvillei var. orientale
Gymnocalycium achirasense H. Till & Schatzl 1979 ex H. Till
Published in: KuaS 38(8): 191, 1987
Gymnocalycium monvillei ssp. achirasense (H. Till & Schatzl ex H. Till) H. Till,
Published in: Gymnocalycium 6(3): 102, 1993
Gymnocalycium horridispinum var. achirasense (Till & Schatzl) Lodé
Published in: Cactus Aventures International Nr. 27: 29, 1995 und Fichier Encycl. Cact. 16: 1473, 1995
Etymology: The variety name "orientale" means that it lies in the most eastern part of the habitat.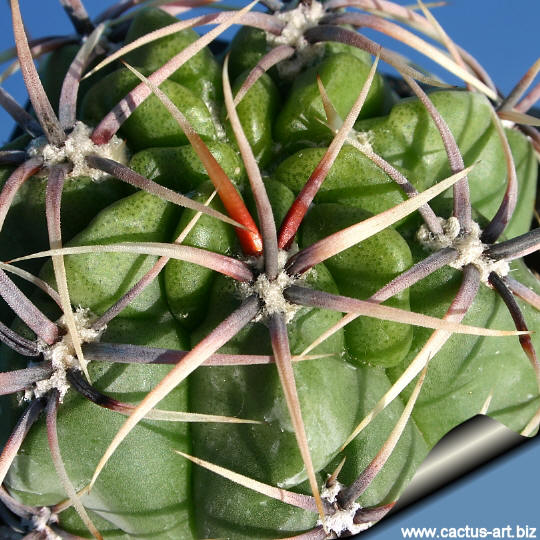 The dark green stem is protected by very aggressive spines.