Family:
Cactaceae (Cactus Family)
Scientific name: Gymnocalycium monvillei (Lemaire) Britton & Rose 1922
Origin: Argentina, Córdoba province (Sierras grandes and Chicas de Córdoba) and San louis province.
Conservation status: Listed in CITES appendix 2.
Echinocactus monvillei

Lemaire 1838

Echinocactus multiflorus

J. D. Hooker 1845

Gymnocalycium multiflorum

(J. D. Hooker) Britton & Rose 1918

Gymnocalycium brachyanthum

Gürke 1907

Gymnocalycium monvillei subsp. brachyanthum

(Gürke) H. Till 1993

Gymnocalycium oursellianum

(Cels ex Salm Dick) y. Itó - Not validly published

Gymnocalycium schuetzianu

m H. Till & Schatzl 1981

Gymnocalycium achirasense

H. Till & Schatzl ex Till & Schatzl 1987

Gymnocalycium monvillei subs. achirasense

( H. Till & Schatzl ex Till) H.Till 1993

Gymnocalycium horridispinus

G. Frank ex Till 1987

Gymnocalycium monvillei subsp. achirasense

(G. Frank ex Till) H. Till 1993
Description: G. monvilley is a (usually) solitary geophytic cactus.
Stem: Flattened or globular, dark-green, grey-green to olive green, up to 20 cm in diameter, up to 8 cm tall. (but in cultivation plants can grow up to 30 cm in diameter)
Ribs: 10-17(-20), broad, obtuse, tuberculate with chin like protrusions.
Spines: Stout, thick, slightly curved, yellow with usually reddish bases, often translucent , but also orange, black or reddish.
Radial spines: 7-13, 3-4 cm long
5-7 up to 12, but usually less in young plants, flattened against the body.
Central spines: Usually absent, or 1 to 4 erected.
Flowers: Are some of the largest in this genus, often growing larger than the plant!, funnel-shaped 4 to 8 cm long and wide, white flushed with pink or pink and often double petaled.
Blooming season: Summer, It takes 5-6 years from seed before flowers.
Fruit: Green that became yellowish at maturity, globose, up to 2 cm in diameter.
Seeds: Up to 1 mm brownish-red.
There are a number of different forms of this highly variable cactus species, but not all are universally recognized. Some authorities recognize the following subspecies:
Subsp. monvillei. has 7-13 curving, ± compressed radial spines usually yellow (Origin Córdoba province)
Subsp. horridispinum Has 10-12 strong stiff radial spines ()
Subsp. achirasense Has 10-12 radial spines almost flat against the plant body (Origin San Luis province)
Subsp. Brachyanthum Has approx. 7 spines (Origin San Luis province)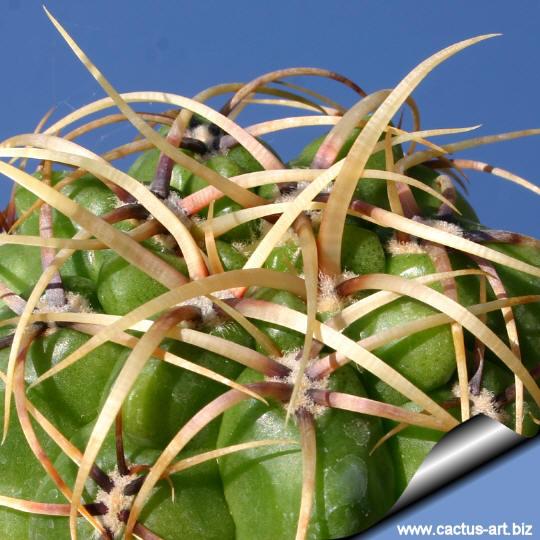 Cultivation: It is a summer-growing species that offers no cultivation difficulty. Water regularly in summer (but do not over-water). Keep rather dry in winter. Feed with a high potassium fertilizer in summer. Hardy as low as -5° C (or less) if kept dry. Sun Exposure: Light shade.
Propagation: Direct sow after last frost or offsets