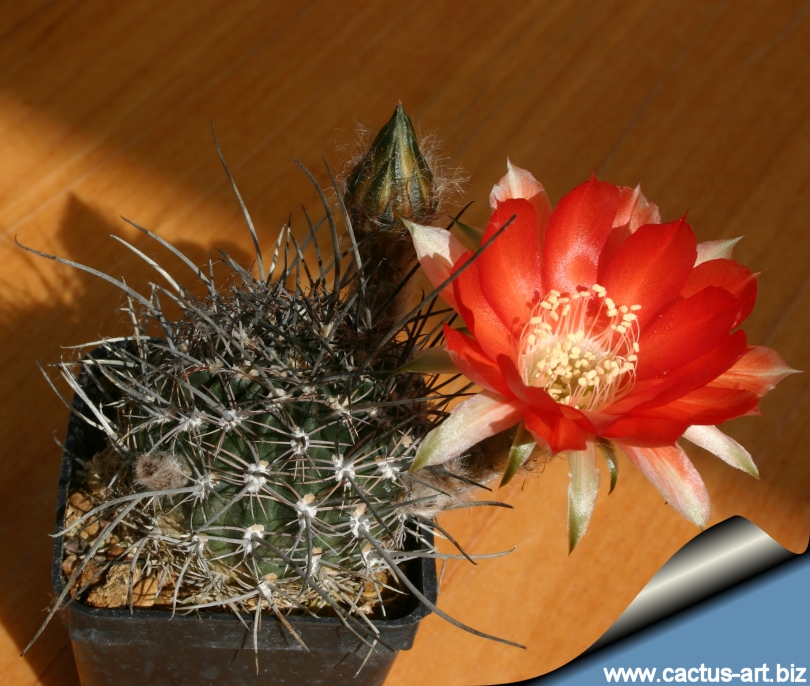 Lobivia haematantha P 238 Portero, Salta, Agentina
Big rich red flowers with stiff dark spines. A real eye catcher!
The plants from the locality of Portero Salta, Agentina have a squat black/green body with black spines on white aeroles. Then, when older, the plant produces wild black curly spines, and 4-5 cm, slightly hooked centrals.


Description: L. haematantha is a very interesting but extremely variable species, with many forms and varieties. It is a geophyte cactus, usually solitary, or slowly branching to form small clumps.
Stem: Somewhat depressed, globose to short cylindrical. Silky, somewhat shining, grey-green, bluish, olive- green to pinkish or brownish-green, 5-8(-12) cm tall, 5-7 cm in diameter.
Ribs: 8 to 15, vertical or slightly spiralling, somewhat tuberculate, obtuse, narrow.
Areoles: Nearly circular, 5-6 mm in diameter, white, felted.
Spines: Heavy, curving, yellowish, pink/brown, orangish dark brown or black..
Central spines: Usually 1 to 4, unequal, stouter than the radials, curly, often hooked, 3-6 cm long.
Radial spines: 6 to 12, slender ± interlacing, needle-like, and more or less appressed, 05-1cm long, pale grey with a darker yellow tip.
Flower: Diurnal, broadly funnel-form, yellow to purple with usually a white or yellowish-cream throat circle, 3-4 cm wide, inner perianth segments spatulate to obovate, obtuse, stigma lobes 9-12, white. Scales on flower tube with long wool.
Fruit: Globose to ovoid, green to brownish-violet, semidry, dehiscent.
Root: Large taproot, carrotlike.