Lobivia haematantha v. hualfinensis - R146 Andalgala to Hualfin, Catamarca, Argentina
This is a very interesting plant with big orange-red flowers and heavy, curving, pink/brown or orangish spines. A real eye catcher!


Description: L. haematantha ssp. hualfinensis is a geophyte cactus, usually solitary o slowly branching to form small clumps.
Stem: Globose to shot cylindrical, Silky grey-green olive- green to pinkish or brownish-green. p to 12 cm tall , 5-7 cm in diameter.
Ribs: Up to 12 (but usually less) vertical or slightly spiraling, low.
Spines: Heavy

,

curving

,

pink/brown or orangish.
Radial spines: 8 to 12, bent against the plant body, interlacing, 1-3 cm long.
Central spines: Usually 1, long

,

curly

,

4-10 cm long.
Flower: Diurnal, broadly funnelform, orange to bright red 3-4 cm wide, with usually a white or cream-yellowish throat circle.
Fruit: Globose to ovoid, green to brownish-violet, semidry, dehiscent.
Root: Tap root.


The throat circle is generally white, but some individuals may have a different coloured throat like the green one on the right .


Photo & © copyright by Süleyman Demir Turkey
The flower bud is very hairy.




Photo of plants belonging to the Lobivia (Echinopsis) haematantha complex (This taxon has lots of synonyms (like most Lobivia) whit several controversial varieties and subspecies):


Advertising




Family:
Cactaceae (Cactus Family)
Scientific name: Echinopsis haematantha subsp. hualfinensis (Rausch) J.G.Lambert 1998
Origin: Northern Argentina
Conservation status: Listed in CITES appendix 2.
Lobivia haematantha (Speg.) Britton & Rose

Echinocactus haematanthus

Speg. 1905

Lobivia hualfinensis

Rausch 1968

Echinopsis hualfinensis

(Rausch) H.Friedrich & Glaetzle 1983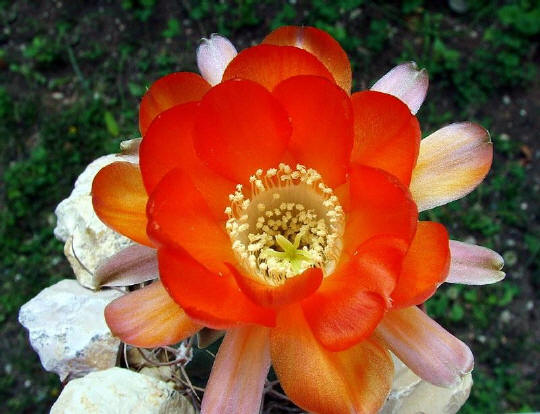 Photo & © copyright by Süleyman Demir Turkey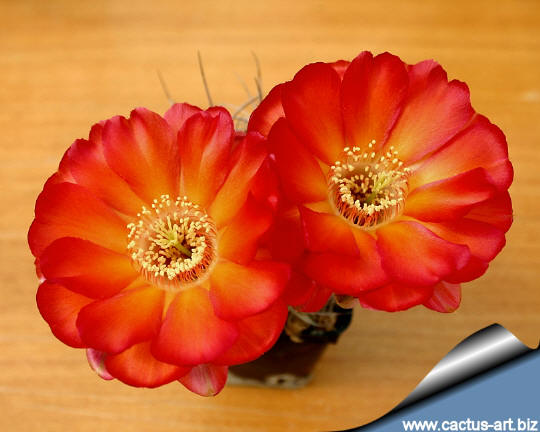 Cultivation: It is a summer grower species that offers no cultivation difficulties. Water regularly in summer (but do not overwater ) needs good drainage and very porous, keep rather dry in winter. Feed with a high potassium fertilizer in summer. It is quite frost resistant if kept dry (hardy to -5° C) Outside full sun or afternoon shade, inside needs bright light, and some direct sun.
Propagation: Direct sow after last frost. (seldom produces offsets)