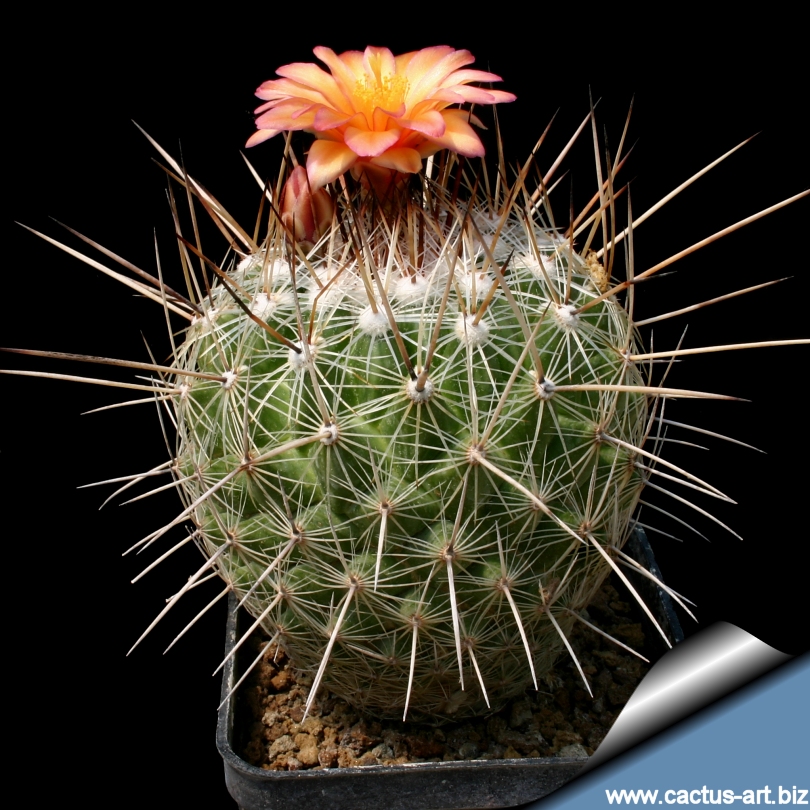 The subspecies aurantiacus, is easily recognized for its longer, glassy central spines, less densely covering the plant, and bright most unexpected and unusual yellow to orange flowers and more the colour of Parodia aureispina than any Thelocactus!
Description: Solitary whit globose or cylindrical stem ca. 11 cm. in diameter, ca. 10 cm. tall with the prominent tubercles mostly obscured by spines. Areoles are woolly when young, ca. 3,5 mm wide.
The central spines are ± 4, porrect to slightly recurved to curving sideways, somewhat flattened, thickened creamy-white or orangish when young becoming greyish-brown and darker at base, stiff, slightly annulateand shredding with age. It has ± 20 glassy-silvery-greyish-white radial spines.
The flowers are a rich bright yellow to orangey yellow in colour, margins entire
Cultivation: Easy to cultivate. Summer grower needs full sun exposures.
Water moderately from Spring to Autumn. Keep dry in winter, can tolerate frequent moderate frost, above approx -7C,

Reproduction: Nearly always from seed, since the plant rarely produces plantlets.
Photo of conspecific taxa, varieties, forms and cultivars of (Thelocactus conothelos complexcomplex):