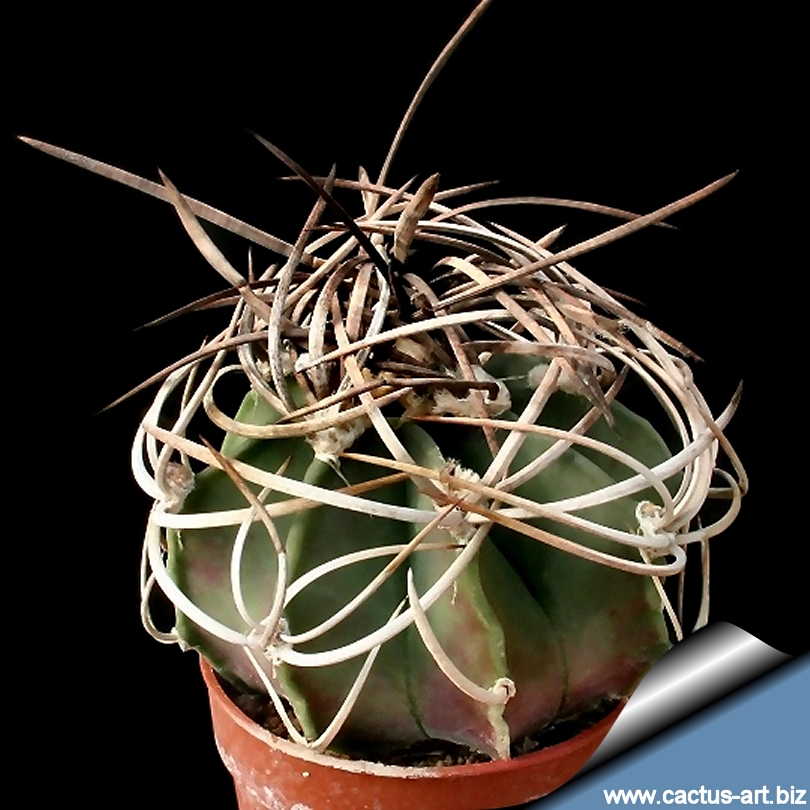 Astrophytum capricorne var. crassispinum is a very beautiful variety with striking strong flat and large spines up to 8.5 cm long.
Description: this variety is very similar to A. capricorne v. niveum (and the differences between this variety is questionable) A. capricorne var. crassispinum is characterized by a sharp-ribbed body, the ribs are the same as A. capricorne, but the stem is larger bright green and almost bare (lack white dots)
Ribs: 8 sharp with a reddish edge.

Spines: The 6-8 spines are striking strong and up to 8.5 cm long, flat, black to brown in the youth, later grey-chalky. They are noticeably stronger, larger and thicker than in the common A. capricorne. Yellow spined plant are also common in cultivation
Flowers: The blossom have a reddish eye as in Astrophytum capricorne var. niveum but pure sulphurous flowers are also mentioned .
'KIGAN' is a famous Japanese cultivar of A. capricorne v. crassispinum (the name means means 'monstrous')



Advertising
Family:
Cactaceae (Cactus Family)

Scientific name: Astrophytum capricorne v. crassispinum (Möller, H.) Okumura Y. 1933
In: Classification of Astrophytum, Syaboten-no-Kenkyu 4: 174-175, 195-201, 215-216; Seite / page 175

Original description: Echinocactus capricornus v. crassispinus MÖLLER, H. (1925)
in: Echinocactus capricornus DIETR. und seine Varietäten Zeitschrift f. Sukkulentenkunde 2 (7): 129 1925
Origin: Cuatro Cienegas, Mexican
Conservation status: Listed in CITES appendix 2.
Synonyms:
Astrophytum capricorne niveum 'nudum'

Astrophytum crassispinum (Möller, H.) HAAGE, W.; SADOVSKY, O. (1957)
In: Revision in der Gattung Astrophytum Kakt. and. Sukk. 8 (9): 137-138
Astrophytum capricorne v. crassispinum nudum (Möller, H.) ITO, Y. 1981 invalid name
In: The Cactaceae - Classification and Illustration of Cacti by Yoshio Ito Japan: 514.
NOTE: The name "crassispinus" is however source for many confusions. And also frequently these plants are mistaken with Astrophytum capricorne cv. crassispinoides which is very different and has very thin and flexible white spines and pure yellow flowers.

Cultivation: Although regarded as a choice and difficult plant in cultivation it is relatively easy to grow. Use mineral well permeable substratum (rot prone). Water sparingly from March till October and keep perfectly dry in winter at temperatures from 5 to 15 degrees centigrade. (but it is Hardy to -7°C for short periods) In the rest period no high atmospheric humidity!! Sun Exposure: Light shade to full sun.

Astrophytum capricorne and its varieties are very variable in their habit even in small areas. And it is understandable that today we often have problems to decide to which population plants belong
Photo of conspecific taxa, varieties, forms and cultivars of Astrophytum capricorne: