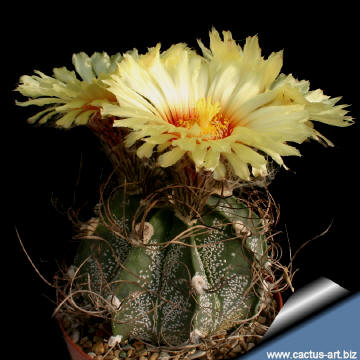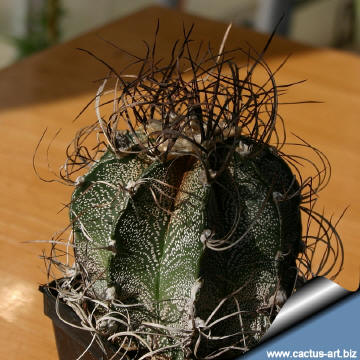 Camouflage: The fine spines of this species are an optical artifice supporting the grass-mimicry to the surroundings.
Description: Small growing variety of the species when living in open fields
Stem: Small 10 and 12 centimetres tall, diameter up to 6-8 centimetres (or more in cultivation) with usually less and smaller white dots like in the type, never red-brown dots.
Spines: Thin and twisted covering the body.
Flowers: Magnificent up to a diameter of 10 centimetres which cover the whole body like an umbrella.
Blooming time: From April to October, they have the ability to flower as very young plants (At the age of three years)
Fruits: The variety minor has most seed-rich fruit of all Astrophytums.
Cultivation: Although regarded as a choice and difficult plant in cultivation it is relatively easy to grow. Use mineral well permeable substratum (rot prone). Water sparingly from March till October and keep perfectly dry in winter at temperatures from 5 to 15 degrees centigrade. (but it is Hardy to -7°C for short periods) In the rest period no high atmospheric humidity!! Sun Exposure: Light shade to full sun.

Propagation: They can be propagated easily from seed.
Astrophytum capricorne and its varieties are very variable in their habit even in small areas. And it is understandable that today we often have problems to decide to which population plants belong.
Photo of conspecific taxa, varieties, forms and cultivars of Astrophytum capricorne: