Astrophytum senilis (an old specimen)

Description: Spherical to short cylindrical cacti, so densely wrapped with soft spines that the body is hardly visible, and looks like a dry grass bundle.
Spines: 16 to 20(-30), whitish, dark reddish brown till black coloring, later getting grey, bristly, flexible, square in cross-section, 5 to 7(-10) cm long and pointing in all directions that often form up spirals, they are so densely nest wrapped that the body is hardly visible and looks like a dry grass bundle. The lateral ones grows horizontally sideways at first and then buckle while the others point more or less upwards. After rain they get wet and become very flabby.
Flowers: Yellow (or often orange or pink) with a red centre.

Cultivation: Easy to grow. Use mineral, well permeable substratum (rot prone). Water sparingly from March till October and keep perfectly dry in winter at temperatures from 5 to 15 degrees centigrade. (but it is Hardy to -7°C for short periods) In the rest period no high atmospheric humidity!! Sun Exposure: Light shade to full sun.

Propagation: They can be propagated from seed.

Photo of conspecific taxa, varieties, forms and cultivars of Astrophytum capricorne:


Advertising




Family:
Cactaceae (Cactus Family)

Scientific name: Astrophytum capricorne v. senile (FRIC) OKUMURA
HOOCK, H. 1990 . Kakt. and. Sukk. Band: 41 Heft (2) und Heft (3) Seite 28-30 und 56-60

Synonyms:
Astrophytum capricorne v. senile BACKEBERG (OKUMURA) 1961
Astrophytum capricorne v. senilis MARSHALL, W.T.; BOCK, T.M.1941
Astrophytum senile, FRIC, A.V. 1925
Astrophytum senile v. senile, SCHÜTZ, B. 983
Echinocactus capricorne senilis RÖDER, W. 1929
Echinocactus capricornis v. senilis, ( FRIC) BERGER, A. 1929
Echinocactus capricornus senile, Anonym 1926
Echinocactus capricornus v. senilis, MÖLLER, H. 1927

Conservation status: Listed in CITES appendix 2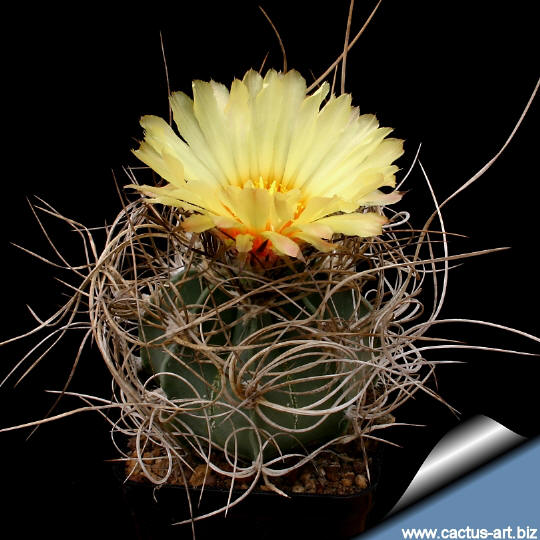 Astrophytum senilis has lovely yellow flowers with a red centre
and long flexible spines that mimics dry grass.