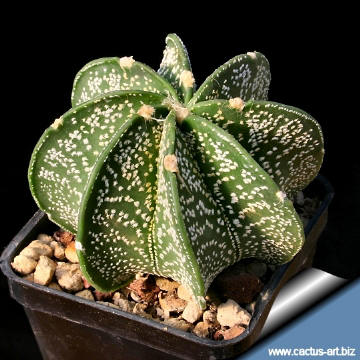 A young specimen (Ø 4-5 cm) still without spines. This is a juvenile or sub-adult feature of this species, spines appear anyway later as the plant ages.
Description: Solitary globose or columnar cactus.
Stem: Although young plants are globular, they soon become ovoid, and eventually columnar up to 1.2 m tall, 10 (15) cm in diameter. The epidermis of is more or less covered with the typical white woolly flecks characteristic of the genus.
Ribs: Usually 8.
Areoles: In vertical rows along each rib and
Spines: 5 to 10 up to 7 cm long, Grey to brown wired, twisted, curved, flattened that look like the horn of a Capricorn. As plant ages spines get a bit more intense and messier, but relatively sparse, they are stiff but pliable and fragile, so, plant should be handled with care.
Flowers: Sweet smelling 7.5 cm wide, yellow with a red center.
Blooming season: Blooms in summer.
Fruit: Reddish covered with flattened spines, 2.5 cm in diameter.
Camouflage: The fine spines of this species are an optical artifice supporting the grass-mimicry to the surroundings.

Astrophytum capricorne and its varieties are very variable in their habit even in small areas. Plants vary in the amount of flock on the surface, in the number, length, shape and colour of the twisted spines, and in the size of the stems. And it is understandable that today we often have problems to decide to which population plants belong.